Reviews and Testimonials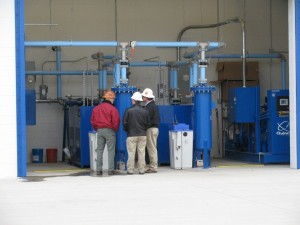 Since 1920, the Quincy Compressor name has stood for industry-leading quality in air compressors and related equipment. In nearly every industry driven by compressed air technology, our reputation speaks for itself. You'll find Quincy air compressors raising the bar for performance and efficiency in automotive, manufacturing, food and beverage, energy, medical, and a wide range of other applications. Designed to deliver reliable, stable pressure, low operating and maintenance costs, and ongoing energy savings, Quincy products are a great choice for any growing business.
Still not convinced? On this page, you'll find information about some of the awards we have received. You can also read customer reviews of our professional air compressors and commercial products.
Thanks to all your employees for making such a fine product.
– Henry Gradowski of Elsberry, MO
Awards and Recommendations
Quincy air compressors have been recognized by both customers and industry insiders alike. We have been the recipient of numerous awards, including the 2010 Manufacturing/Automation Summit Gold Award for compressed air products, which was given to the QGD rotary screw air compressor. We've also received the Liberty Mutual Gold Safety Award, the EnPro Industries Presidential Safety Award, and the Managing Automation Progressive Manufacturing Award, among others.
Awards and reviews of Quincy air compressors speak to not only the innovation that drives our products, but also our commitment to progressive manufacturing and management practices. In 2014, Quincy Compressor received ISO14001:2004 certification, recognizing our commitment to best practices and continuous improvement in environmental management.
In my professional opinion Quincy Compressor makes one GREAT air compressor.
– Steven Couzzo, GKN Aerospace Monitor, Inc.
Committed to Continuous Improvement
Reviews of Quincy air compressors are useful to potential customers and provide an important window into the priorities of current owners. This insight can help guide future product developments.
Total Customer Value (TCV) is the foundation of our management philosophy, and it represents a commitment to reducing costs, improving efficiency and researching new solutions to the engineering challenges our customers face every day. You can see the results of TCV in any of our current generation of air compressors, air treatment equipment, vacuum pumps and other products.
That's one of the toughest pieces of equipment I've ever seen.
– Ken McCooley, Fort Campbell, KY
Read Commercial Air Compressor Reviews Online
Click here to see more of what some of our valued customers have been saying about Quincy products. For more information or assistance choosing the right air compressor for your application, contact a sales representative today.