QVMS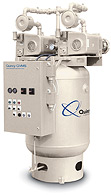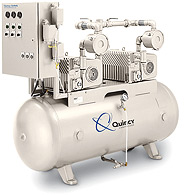 QVMS
QVMS 2-10 hp NFP 99 Compliant Direct Drive Vacuum Pump
The Quincy QVMS has been uniquely designed to meet your medical vacuum needs. Engineered for flexibility and easy installation, the QVMS features reliable, direct drive pumps and one-side access for necessary maintenance. Developed for hospital applications that demand high capacity and constant vacuum levels, at the heart of every QVMS is a Quincy QV rotary vane vacuum pump.
At a Glance
Fits through standard doorway
Multi-stage demister/separator
Air cooled
Direct-drive pumps
Fully NFPA 99 compliant
Up Close
2-66 hp, 10-66 scfm
TEFC motors
NEMA 12 control panel
Gas ballast & anti-suck valves
Up to 2-Year Warranty Available
Reliable Operation When Lives Are on the Line
Any vacuum pump used in a hospital must be reliable, sanitary and easy to use. Engineered specifically for medical applications, the QVMS direct drive vacuum pump offers a host of features that make it ideal in any healthcare environment. These include:
An air-cooled design that operates continuously at vacuum levels as low as to 29.9" HgV (0.5 Torr), while avoiding the need for bulky, cumbersome water management systems
A totally enclosed, fan-cooled (TEFC) motor that is exceptionally reliable, shift after shift and day after day
A gas ballast and anti-suckback valve system that automatically accommodates changing vacuum levels
Built-in cooling fins and a spin-on fluid filter that allow for use in temperatures up to 104° F, or 40° C
A multi-stage demister/separator that filters outs impurities by achieving a minimum 99.9% fluid/air separation at all times
The QVMS vacuum pump is powered by a Quincy Compressor QV-series rotary vane vacuum pump and paired with either a horizontal or vertical mounted tank. Ten different configurations are available, delivering anywhere from 10-66 SCFM (2 to 10 HP) flow rates.
Every QVMS system is fully compliant with NFPA 99 standards for the safe installation, inspection, testing and maintenance of medical gas and vacuum systems. For detailed specifications, download the product brochure or contact Quincy directly to speak with one of our vacuum air experts.
World-Class Performance in a Small Package
Another notable feature of the QVMS direct drive vacuum pump is its small footprint. In facilities where space is at a premium, the unit's modular design can be adapted to fit easily in any room. Small enough to move through any doorway, it is simple to install without requiring extensive infrastructure modification. This not only frees up floor space and eliminates clutter for a more streamlined workflow, it also keeps installation costs to a minimum — an important bonus for today's increasingly budget-conscious healthcare providers.
Use the QVMS in any situation in which an NFPA-compliant direct drive vacuum pump is required. Many of our clients have purchased QVMS pumps as an economical and convenient alternative to central vacuum systems. For more information about potential applications, contact a Quincy representative directly.
Service and Support You Can Count On
Patients rely on your facility for exceptional care whenever they need it. You should expect the same of any equipment supplier you work with. When you choose a Quincy Compressor vacuum pump, you are choosing a product backed by exceptional warranty coverage and a total commitment to service solutions.
All units feature a full year of warranty coverage. Got a problem or question about your purchase? One call to your local distributor is all it takes to order parts, arrange scheduled maintenance or take care of any service issue.