EQ: Efficiency Quotient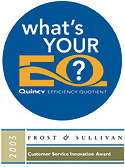 Quincy's patented, Frost and Sullivan award-winning EQ process evaluates the overall efficiency of your compressed air system based on "Best Practices" solutions. With our dedication to improving the efficiency of all compressed air systems through the use of industry-approved best practices, Frost and Sullivan has recognized the Quincy EQ process as a process that drives operational excellence and gives end users the power to take the first step.
Step 1. Free plant walk through to determine existing EQ Rating
Your Quincy representative will complete the Rating Worksheet, or you may also choose to complete the Self Analysis Worksheet on your own. This does more than just identify your existing EQ rating, it also:
estimates your current air system costs
estimates cost reduction potential
Step 2. EQ Analysis to quantify cost reduction opportunities
A trained Quincy representative comes on site and connects the EQ Analyzer which records the power and performance of the compressors and air pressure levels in your compressed air system during normal production. This data, along with information from plant personnel and observation, is thoroughly analyzed.
Step 3. Evaluation of EQ Analysis Report and Action Plan for reducing operating costs.
Financial projections include a pay back calculation on the recommended Action Plan and capital investment.
System performance graphs and tables provide details on existing and proposed system performance.
The Action Plan details the specific recommendations and estimated costs to raise your system's EQ to "Best Practice" levels.
Why Efficiency Matters — a Corporate Perspective
The efficiency of a compressor can have a tangible effect on your bottom line. You need to know how much energy your current system is using and how much you can gain by implementing changes.
In a busy working environment, efficiency entails more than just the direct costs of fuel consumption. A more efficient, better-designed compressor will have fewer maintenance requirements and be less prone to breakdown — key benefits in terms of both your operating costs and overall productivity.
It's not only the compressor efficiency that matters. Every detail in a compressed air system — from the piping, layout, filtration, storage and pressure flows — impact the potential for savings.
At Quincy Compressor, efficiency is something we've built into the very structure of our business. You'll see it in our products, of course, but also in our processes. We've adopted a system we call "Total Customer Value" — a cycle of continuous improvement that drives us to ongoing innovation in everything we do.
Reducing waste and improving operations are two key values of this system. All of our employees receive ongoing training in lean manufacturing techniques. Our team has the tools available to assess their own workspaces and implement improvements that ultimately save our customers money.
You'll see the results of Total Customer Value in the efficiency of our compressors and the superior value they deliver for your purchasing dollar. To learn more about making your compressed air system as efficient as it can be, contact one of our expert partners. As trusted advisors, they can arm you with the information you need to make efficient and sustainable system choices.
Calculate your system's efficiency by downloading our NEW EQ iPad app today!
Download TODAY!

  Download the EQ Brochure w/Self-Analysis Worksheet from our Literature Library.

  Download an electronic form version of the EQ Self-Analysis Worksheet.
Fill out the form below to get a free, no-obligation compressed air system evaluation: