Numerous industries rely on compressed air in their daily operations — food and beverage, manufacturing, automotive, climate control and energy are just a few examples. No matter why you need air compressors in the Aquia Harbour, VA, area, you can trust Quincy Compressor to have the best equipment for the job.
Quincy Compressor has been a leading compressed air industry pioneer for more than 100 years. We're known for designing and manufacturing innovative equipment that delivers dependable long-term performance in challenging operating conditions. We offer these premium products via an extensive network of distribution partners, including a full-service location in nearby Richmond, VA.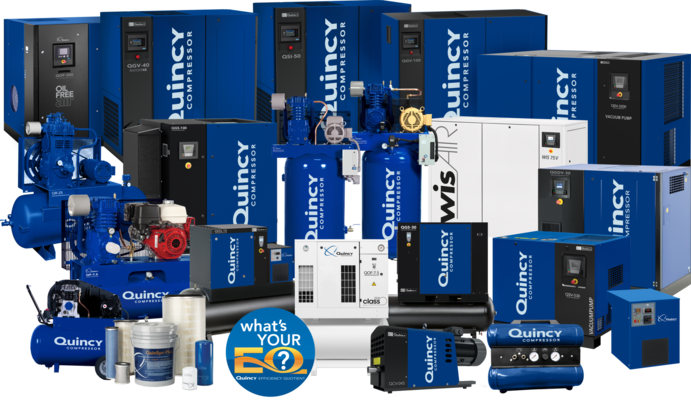 Choose From an Array of Air Compressors for Sale in Aquia Harbour
Quincy manufactures a wide assortment of air compressors and related equipment, and you'll find them all at our Richmond location. Choose from the following product categories:
You'll find various models within each category in different sizes, configurations and capacities, allowing you to tailor your selection to your unique operating environment. We also back our products with the best warranty coverage in our industry, giving you extra protection and peace of mind.
We Emphasize Quality at Quincy Compressor
We also recognize how much Aquia Harbour businesses like yours rely on compressed air equipment every day. We design and manufacture all our products to meet our (and your) high standards. Unlike some of our competitors, we don't outsource to overseas companies. Instead, we operate an ISO 9001-registered facility in Alabama that can handle every aspect of the process. You'll always get an American-made air compressor you can trust.
Comprehensive Service for Quincy Equipment
Once you've purchased your air compressor, we'll be there to keep it running. Our professional and knowledgeable air experts are nearby to assist with maintenance and repairs. Around-the-clock emergency service is also available when needed. We also carry replacement parts for virtually every Quincy Compressor product or can source them for you quickly if necessary.
Explore All Your Quincy Compressor Options Today
We welcome you to take the one-hour drive from Aquia Harbour to see the latest compressed air equipment from Quincy Compressor in person. Our authorized partners in Richmond will be happy to answer your questions. You can also call us at 855-978-4629 or contact us online for additional product and pricing information.