At Quincy Compressor, we have over 100 years of experience manufacturing quality products. Our compressors are used worldwide in demanding applications, with uses throughout the most rigorous jobs in the commercial and industrial sectors. Our direct location serving Austin is your partner for knowledgeable sales experts, skilled maintenance services and air compressor repairs. See how we can help you become more profitable and productive.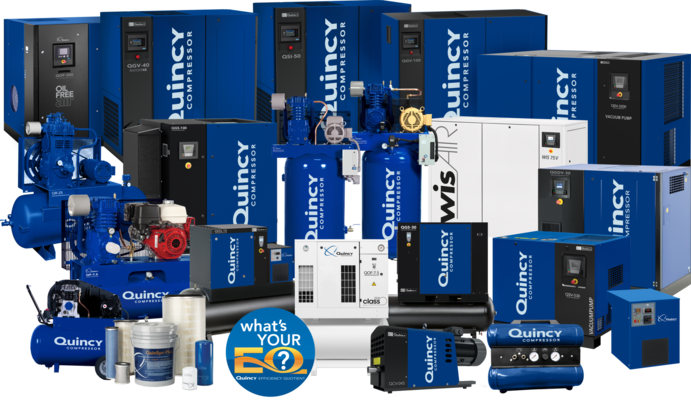 Looking for the Best Air Compressors in Austin?
Quincy air compressors set the standard when it comes to tackling tough jobs. They are the preferred solution for heavy-duty applications and ideal for industrial and commercial uses in agriculture, automotive, oil and gas, aerospace and the manufacturing sector, along with countless other applications.
We manufacture a diverse lineup of machines, and our team can help take your requirements and match them with the right type and model unit. Custom systems are also available, and we offer turnkey installation on air compressors across Austin for your added convenience.
Systems in our regular product catalog include:
Why Buy a Quincy System?
Quincy air compressors are products you can purchase with confidence. We manufacture them to strict quality standards, building every unit in the USA using superior components and premium raw materials. They're also supported by dependable warranties. Our team can help you get even more from your system with products like our air system piping and advanced green and efficient solutions. Reach out to us to learn more.
Air Compressor Repairs in Austin, TX
Industrial air compressors work hard and require ongoing maintenance to stay in peak condition. As the leading local air compressor company in Austin, Texas, and your home for the complete Quincy product line, we make it easy to give your system what it needs according to your unique operating schedule. Our solutions include:
Genuine parts: The best systems demand the best parts, and we have everything you need to care for your machine — plus the skill to help you assemble the right order. We also carry maintenance fluids necessary for performing all your scheduled services.
Maintenance agreements: For a simpler solution, you can enroll in one of our cost-effective maintenance agreements. Options include parts-only plans and services where we'll perform repair and maintenance for you, helping you save money, get more uptime and achieve peak performance.
Air compressor repair: If your compressor experiences performance issues or goes down, let us know — we'll promptly send a technician to your facility. Our mobile air compressor repair services in Austin are available 24 hours a day to help minimize your downtime and ensure maximum productivity.
Let's Discuss a Solution for You
If all this sounds good, wait until you see everything we can do to help your business succeed. Talk to your local experts at the Quincy Compressor location near Austin, Texas, to get more information and request a custom quote.
You can use our contact form to get started, visit our brick-and-mortar location or reach us over the phone at 830-606-1240.