Do you operate a business that needs a reliable compressed air source to keep the wheels of progress turning? If you're in the Bon Air, VA, area, Quincy Compressor in Richmond has you covered. You'll find a wide assortment of air compressors and other equipment for industries such as food and beverage, manufacturing, plumbing, painting, aerospace and many others.
Quincy Compressor has been providing industry-best compressed air solutions since 1920. We supplement these innovative products with exceptional support throughout the customer journey. Our proximity to Bon Air means we can deliver the prompt, attentive service you deserve.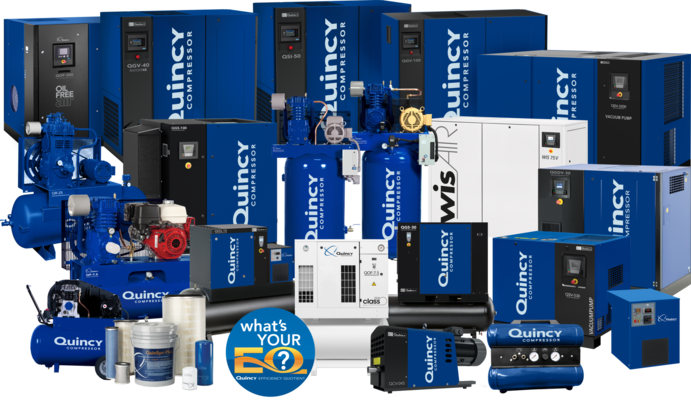 The Right Compressed Air Equipment for Your Needs and Budget
Quincy designs and manufactures numerous types of equipment covering multiple product categories. You'll also find several models, giving you maximum product selection flexibility. Choose from the following:
The authorized Quincy partners in Richmond can guide you through the selection process, allowing you to make the best match between equipment and application. These products also come with comprehensive warranty coverage you can get by registering online after completing your purchase.
Exceptional Quality That Makes a Difference
Quincy's unwavering commitment to quality is a crucial factor in its century-long track record of excellence. We manufacture our air compressors in the USA in an ISO 9001-registered plant while adhering to strict quality standards. Our repeatable and scalable processes ensure consistent results and unmatched performance and durability. Your air compressor will meet — and exceed — your expectations.
Complete Service Long After the Sale
Count on Quincy to keep your air compressors performing well and lasting a long time. If you ever need air compressor repairs in Bon Air, Virginia, trust that our authorized partners in Richmond can handle any challenge. We also offer 24-hour emergency service — we're always available to keep your equipment on the job and maximize uptime.
When you need replacement parts, our Richmond location can supply virtually everything your Quincy model requires. Our network of knowledgeable and professional air experts can help you find the right product for your compressor.
Learn More About Air Compressors Near Bon Air, Virginia
Visit Quincy Compressor in Richmond today to find the best air compressor for your Bon Air business. You can also get more information by calling us at 855-978-4629 or filling out and returning our online contact form.