Air Compressors & Parts in Bristol, PA
How confident are you in your air compressors? If you have a business in Bristol, PA, and you need or expect to need air compressors, you can't leave the quality of the air compressors you get to chance. You need an air compressor that you can rely on to provide the kind of consistent quality you require for the successful operation of your business, which means you need air compressors in Bristol, PA, from Quincy Compressor. Our experienced network of professional and knowledgeable air experts will be happy to assist in analyzing your needs to deliver solutions that completely solve your compressed air challenges.
From automotive to aerospace, food and beverage to oil and gas, pharmaceuticals, refrigeration and many more industries, air compressors work hard every day to keep businesses functioning effectively. When it's time for air compressors or air compressor parts in Bristol, PA, look to the experts at Quincy Compressor.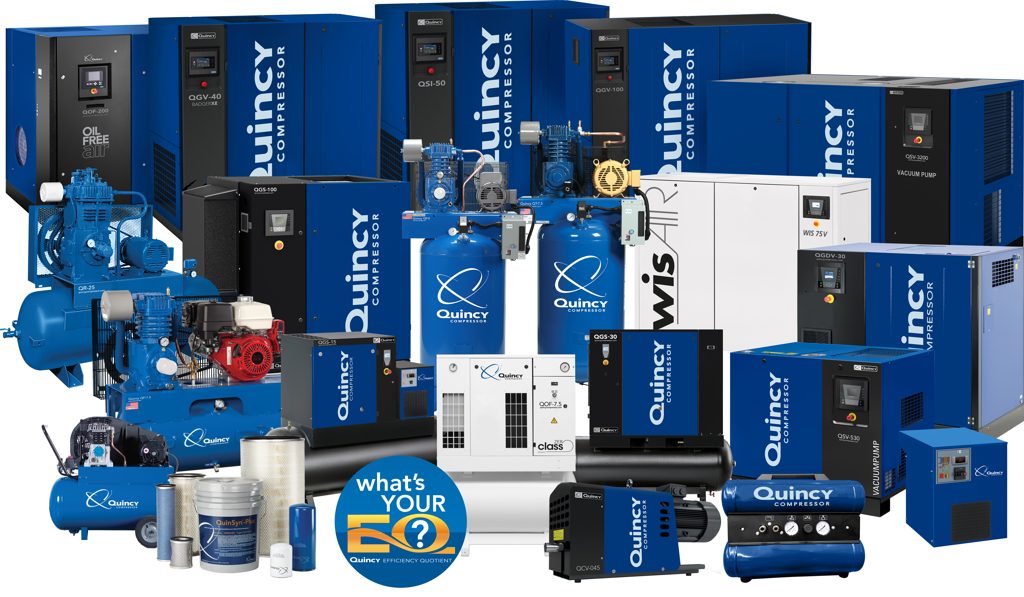 At Quincy Compressor in Bristol, We Have the Right Air Compressor for You
At Quincy Compressor, formerly Scales Industrial, in Pennsylvania, we understand your need for equipment suited to your applications and work environments. There are many different types of air compressors, and we have multiple options for you to choose from based on your needs. Our complete selection of air compressors in Bristol, PA:
Quincy Compressor, Formerly Scales Industrial, Pennsylvania Location Offers More Than Just Compressed Air Solutions
Quincy Compressor, formerly Scales Industrial, strives to be the single source for all of your compressed air equipment and related products and services. In addition to air compressors, we offer a complete selection of compressor controls, including sequencers, control panels, variable frequency drives and upgrade units.
When it comes to process cooling, we carry everything from air and water-cooled industrial chillers for portable and stationary use to sealed and pressurized dry fluid coolers and evaporative towers available in a variety of configurations. Quincy Compressor, formerly Scales Industrial in Pennsylvania, also specializes in industrial vacuum equipment. We offer an extensive inventory of rotary screw, reciprocating, rotary vane and liquid ring vacuum units.
Our product line also includes air treatment solutions such as dryers and filtration, oil/water condensate separators and breathing air purifiers. If you're looking for a partner for engineered products, you've come to the right place. We provide everything from pressure-flow controllers, dew-point monitors and nitrogen generators to aluminum pipe, air knives, jet blasts and many other products.
Directions to Our Bristol, PA Location
Quincy Compressor is located at 2522 Pearl Buck Road, Bristol, PA. If heading southwest on Ford Road, you will turn right onto Pearl Buck Road to reach our storefront. Please note that Pearl Buck Road completes a loop, both starting and ending on Ford Road.
Get Directions
Quincy Compressor, formerly Scales Industrial, Pennsylvania Directions and Services
If you are looking for a reliable source of compressed air solutions and related products and services in Bristol, PA, and the surrounding region, Quincy Compressor offers everything you need. We are located at 1500 Tribbett Ave. close to Interstate 95 and the Philadelphia International Airport. When you visit us in Bristol, you will experience the same cutting edge capabilities and commitment to customer service and support you've come to expect from Scales Industrial for over 50 years.
As a full-service provider, we are proud to offer a variety of solutions for helping your business operate more effectively and efficiently. Our professional air experts include exceptionally skilled and experienced service technicians, system designers and productivity consultants. From system analysis and assessments, upgrades and turn-key installations to troubleshooting and preventive maintenance programs, we're here to help keep your equipment in peak condition. The Quincy Compressor, formerly Scales Industrial, location in Pennsylvania, is also your trusted source for a complete selection of air compressor and industrial parts and accessories.
Why Quincy Compressor Bristol, PA Is The Right Choice for You
If the quality of your air compressor matters to you, why not get your next one from the company that has been a global leader in air compressor products for decades? When you work with Quincy Compressor, you'll get the benefit of an experienced air compressor company combined with the personalized attention of our local provider. You'll also enjoy our 24-hour sales and support for your comfort and convenience.
We offer industry-leading warranties on both reciprocating and rotary screw products. Choose from a variety of extended warranty programs and service contracts based on your particular coverage requirements.
Get in Touch with Your Bristol, PA Quincy Compressor Sales and Service Provider
The air compressor you need for your Bristol, PA, business is waiting for you. To get it, call us at 610-522-8480 or contact us online now. We'll be happy to answer all your questions about our products and services and provide directions to the Quincy Compressor, formerly Scales Industrial, Pennsylvania location.

What Our Customers Say About Quincy
Knowledge, quality, professionalism and accountability. Very good company to work with on all accounts from start to finish, always willing to take the lead to make sure there are no errors on either side. All installs were done in a timely manner. Great company and great people, including their office staff.
– Dottie, Pennsylvania
Very knowledgeable sales engineer! Reasonable price, good reputation, and the installer was very good.
– Paul, Pennsylvania