A compressed air system is only as powerful and reliable as the equipment powering it. At Quincy Compressor, we make it easy to get maximum performance and dependability by producing the world's leading compressor systems and delivering superior customer support.
Our direct location serving Doral is home to our entire product line. It's also where you can work with a team of experts to find the best equipment solution for your business and keep it in peak condition while sticking to a budget.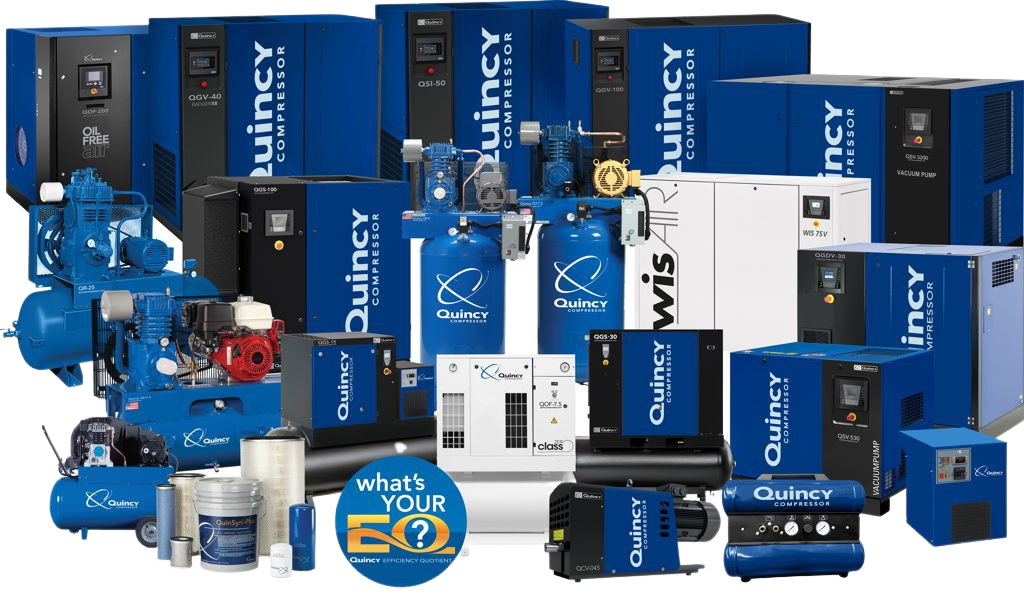 Partner With the Leading Air Compressor Supplier in Miami-Dade County
At Quincy Compressor, we design and manufacture a diverse line of compressed air products and accessories for commercial and industrial applications. We do it right here in the USA and back our systems with some of the industry's leading warranties.
Our team has experience working with businesses large and small within the area's most demanding industries. We'll help you determine which of our rugged compressors best fits your requirements or partner with you to create a custom configuration to overcome unique challenges.
Quincy compressors come in different types and models. The complete list of products we offer includes a selection of:
Get Complete Air Compressor Service in Doral
Using the industries leading air compressors will help you achieve maximum productivity and efficiency. Providing your compressor with regular maintenance and expert repair will help ensure you continue enjoying all the benefits our compressor systems offer. We make it simple with the supplies and services you need right here in the local area.
Buy Genuine Parts
Quincy genuine parts and fluids are specifically engineered for our systems and manufactured to our precise tolerances — and our parts team will supply you with everything you need. We carry a massive in-stock inventory and will help you locate the correct part numbers for added purchasing assurance.
Enroll in Maintenance Services
If you want to save time and effort performing air compressor service in Doral, we offer you the option to sign up for a manufacturer-supported maintenance program. Programs vary, with options ranging from regular parts delivery to customized top-to-bottom care from an expert technician.
Call for Emergency Repair
A downed compressor can halt progress. Let us help you get yours back online with emergency air compressor repair in Doral, Florida. Compressor repair is a mobile service that's available 24 hours per day all year long to ensure you experience maximum system uptime.
Shop Air Compressors Near Doral
There are many advantages to partnering with a Quincy direct location for your systems and services. Talk to our team today, and we'll show you all the ways you can benefit from using our products and services to power your operations.
Visit our store in Miami to browse our products and meet the team. You can also reach us through our contact form or call 855-978-4629.