Quincy compressors are some of the most recognized machines around the globe. They are the first choice for businesses overcoming tough challenges and legendary for the wide range of advantages they bring to the table. If your business relies on compressed air in any capacity, we offer a system that's perfect for the role.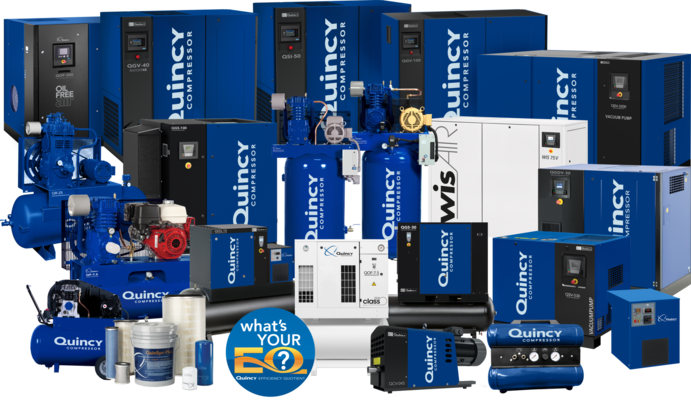 Find Air Compressors in Georgetown, TX
Quincy compressors are manufactured in the USA using over 100 years of industry experience. They are dependable, industry-leading machines that feature the latest in innovative development, delivering a long list of advantages for your business regardless of your industry or company size. If you have a demanding requirement, we will pair you with a type and model suited for the job. We can also create a custom build that meets or beats all your expectations.
At your local Quincy Compressor, we are your home for the largest selection of industrial air compressors in Georgetown, Texas. Our catalog includes:
Premium Support for Air Compressors in Georgetown
When you buy a Quincy system from our direct location, you get access to direct manufacturer support. Our parts counter is home to a massive inventory of genuine parts and fluids, and our team will help you navigate your options. We also offer several agreements built around maintaining your system — our local experts can enroll you in the one best suited to meeting your specific needs.
Our air compressor company location near Georgetown, Texas, has cost-effective options to match your needs and budget, including our:
Parts Guardian plans
Extended Guardian plans
Preventive Guardian plans
Fixed Price Services plans
Our plans offer the option to have parts delivered or have a trained technician handle all your ongoing care. You'll set your machine up for success and get access to excellent benefits such as cost savings, simplified scheduling and more annual uptime depending on the plan you select.
What Makes Quincy Systems Different?
At Quincy Compressor, we manufacture in the USA using the best-quality parts and components. We believe how it's made matters, and you'll see that reflected in how well your system performs and how long it lasts. Our compressors are built to last for years and handle tough jobs.
When you partner with us, you'll have expert assistance finding the right system, optimizing it for your application and configuring it for your facility. You'll also get ongoing support. Our compressors come with excellent extended warranties, and we provide 24-hour mobile air compressor repair for Georgetown companies.
Get to Know Your Local Team
There's a lot our systems can do and a wide range of services we provide to help you get the most from your investment. Talk to our team, and we'll show you all the ways you can benefit from upgrading to a Quincy Compressor for your Georgetown, Texas, business.
Want to learn more? Send us a message using our contact form for assistance, or phone us by dialing 830-606-1240. Our responsive team will be in touch promptly.