If your business relies on compressed air, you can rely on the experts at your local Quincy Compressor for everything you need. Our Los Angeles area location is your home for a full lineup of rugged equipment, expert service and 24-hour air compressor repairs.
Quincy compressors are made to handle the toughest applications, and we have solutions for every industry, including oil and gas, manufacturing, food and beverage, laundry and agriculture. We'll make sure you have everything you need to stay at your most productive and efficient.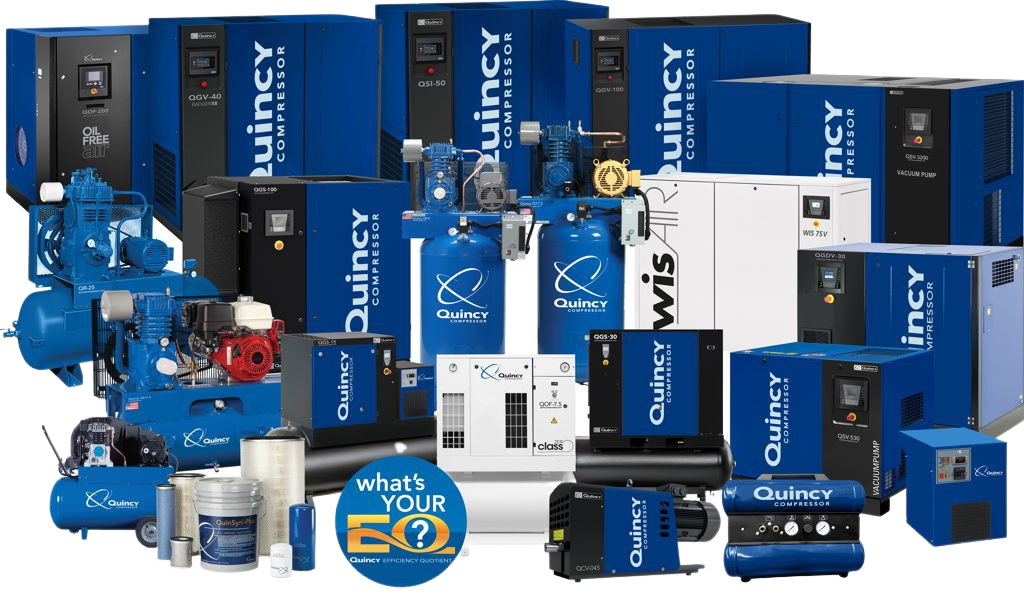 Your Home for New Air Compressors in Los Angeles
Our products handle the most demanding applications, and the Quincy Compressor location near Los Angeles has options that will meet your needs. We also have the knowledge, experience and skill to pair you with the right model and accessories to match the job and your budget.
The complete Quincy Compressor product catalog includes:
As a leading air compressor company in the Los Angeles area, we also carry genuine Quincy parts and fluids and a range of accessories necessary to keep your equipment operating at its peak. These include a large selection of different items, including air system piping and energy-efficient compressor upgrades.
Air Compressor Repair in Los Angeles
If you're running a Quincy system, we are your source for air compressor repairs in Los Angeles and the surrounding area. We have several cost-minded equipment care programs designed to help you keep your system up and productive — and help you save. Talk to our expert representatives to determine which offers the best value for your budget.
Contact Us to Learn About Our Air Compressors in Los Angeles
Quincy compressors are made with pride in the USA and manufactured with quality parts. Our product line delivers what your business demands, and your local Los Angeles area location helps you take advantage of benefits like:
Dependable warranty protection for added peace of mind.
24-hour air compressor repair throughout the Los Angeles area.
Expert assistance getting the products, parts and supplies you need.
Stop by and visit to see the products we carry, get the parts you need and speak to our team. You can also get in touch with our Quincy Compressor Los Angeles-area location by dialing 888-788-6678 or using our contact form.
What Our Customers Say About Quincy
The technician was very helpful and knowledgeable!
– Alana, California