When incorporating air compressors into your New Jersey facility, it's vital that the solutions you choose are reliable and efficient to ensure lasting service. With the right compressors, you can leverage superior performance to accelerate daily operations and fulfill your company's unique applications. The key to securing high-quality compressed air solutions for your business is working with a highly experienced manufacturer.
You can find leading-edge air compressors that exhibit maximum quality and efficiency at Quincy Compressor. We've been leaders in our industry for over 100 years, producing top-of-the-line compressed air solutions with the durability to perform in even the most demanding work environments.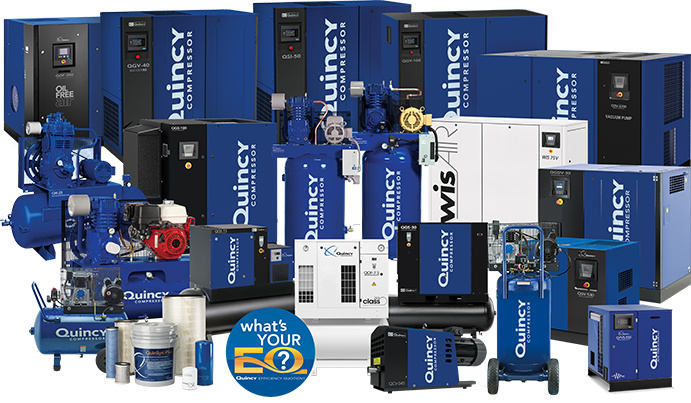 Air Compressors We Carry in New Jersey
At Quincy Compressor, we offer an extensive inventory of high-quality air compressors in New Jersey. Our products are extremely robust, enabling them to withstand high-stress industrial environments while delivering top performance. Due to the many decades of manufacturing and design innovation behind our solutions, our air compressors are known for their exceptional performance, high quality and uncompromising reliability.
You can find many types of high-efficiency compressors in our inventory that you can use to maintain uptime in your organization. We offer:
Superior Air Compressors for Your New Jersey Facility
At Quincy Compressor, we understand your industry's unique compressed air challenges. That's why we assist our customers using our many years of experience to help them choose the ideal air compressors for their applications. We also provide 24-hour service support to get our customers the professional guidance they need when they need it most. Access to our expertise means our clients can stay on track with minimal downtime for their operations.
Our air compressors are designed to accommodate various applications across dozens of industries. Quincy compressors have long served customers in fields like:
Plastics
Oil and gas
Pharmaceutical
Aerospace
Food and beverage
Manufacturing
Plumbing
Dry cleaning
Automotive
Mining
Textiles
Automotive
Our New Jersey Air Compressor Store Locations
We serve customers across New Jersey, providing them with high-quality compressor products no matter where they are. Our direct New Jersey store is located in Pine Brook, conveniently near New York City.
You can find our direct store at 19 D Chapin Road, Pine Brook, New Jersey. We also have many Quincy dealers positioned across the state.
Visit an Authorized Quincy Dealer in New Jersey
You can find top-grade air compressors in New Jersey when you visit Quincy Compressor. Leveraging our vast industry knowledge and many decades of experience, you can feel confident that we'll provide you with the efficient, long-lasting solutions you require for your job site. We strive to get our customers the most value for their purchases, which is why we provide comprehensive warranties for our parts and products.
Visit your local dealer or contact us today for more information on our superior solutions!