When investing in air compressors for your industrial organization, it's crucial that the products you choose are durable and efficient to facilitate many years of dependable use. With high-quality compressors in your facility, you can streamline everyday operations by tackling your unique applications with superior performance. The key to obtaining a reliable air compressor in Pennsylvania is partnering with a trusted manufacturer.
At Quincy Compressor, we manufacture state-of-the-art compressed air solutions that set the standard for quality and performance. We've spent a century producing leading-edge air compressor parts and products with the power and durability to take on industrial applications in even the harshest work environments.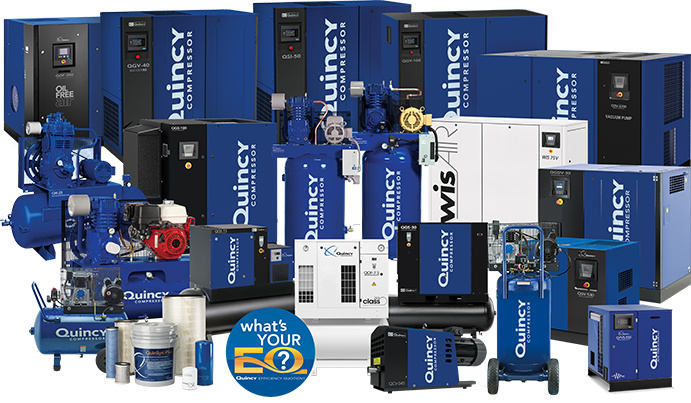 Air Compressors We Offer in Pennsylvania
When you come to Quincy Compressor for your compressed air needs, you'll have access to our comprehensive assortment of cutting-edge compressors designed to operate in heavy-duty industrial environments with optimal efficiency. Our air compressors are shaped by decades of design innovation and manufacturing expertise, accounting for their unwavering reliability, exceptional quality and unmatched performance.
We manufacture many types of compressors you can use to keep your company's most crucial operations moving, such as:
Reliable Air Compressors for Your Pennsylvania Business
With over 100 years of manufacturing experience, we understand the compressed air challenges your industry faces. We use our wide-spanning expertise to provide personalized assistance to our customers, helping them select the compressors best suited to their individualized objectives. We also offer around-the-clock services and support to ensure that our customers receive the assistance they need exactly when they need it, resulting in minimal downtime for their companies.
Quincy air compressors are built to serve practically any application, no matter the industry. Many of our clients operate in fields like:
Plumbing
Automotive
Energy
Food and beverage
Aerospace
Dry cleaning
Oil and gas
Manufacturing
Textiles
Plastics
Pharmaceutical
Mining
Our Pennsylvania Air Compressor Service Areas
We serve customers across the Pennsylvania area with top-quality air compressors. Our direct Quincy location in Bristol allows customers from surrounding Pennsylvania cities to get the compressed air equipment they need.
Our Bristol store is located at 2522 Pearl Buck Road, off Ford Road. However, you can still purchase Quincy compressors outside this region when you visit one of our many Quincy Compressor dealers across the state.
Invest in Quincy Air Compressors in PA
If you're looking for dependable air compressors in Pennsylvania, Quincy Compressor is your number one solution. With over a century of experience, we'll provide you with the durable, high-performance solutions you need for your industrial job site. We are dedicated to getting our customers the highest value for their investments, which is why we offer robust product warranties and 24-hour service support to supplement your purchase.
To find the right products for your business, reach out to our network of knowledgeable air experts to get the guidance you need to make the best decision for your business. Visit your local Quincy dealer or contact us to speak to one of our helpful representatives today!