If your business uses compressed air or vacuum systems, we have you covered. Quincy is one of the oldest names in the industry and your local partner through our direct location. We have a skilled team and provide everything you need to get a new system installed and online — and keep it running. Our store near Santa Ana will keep your equipment in peak condition with quality maintenance and repair supplies and expert care.
Our industrial-strength products are made in the USA, built to last and designed to handle challenging applications. We supply the businesses in the Santa Ana area with solutions for all the most demanding industries, including:
Agriculture
Automotive
Oil and gas
Dry cleaning
Construction
Food and beverage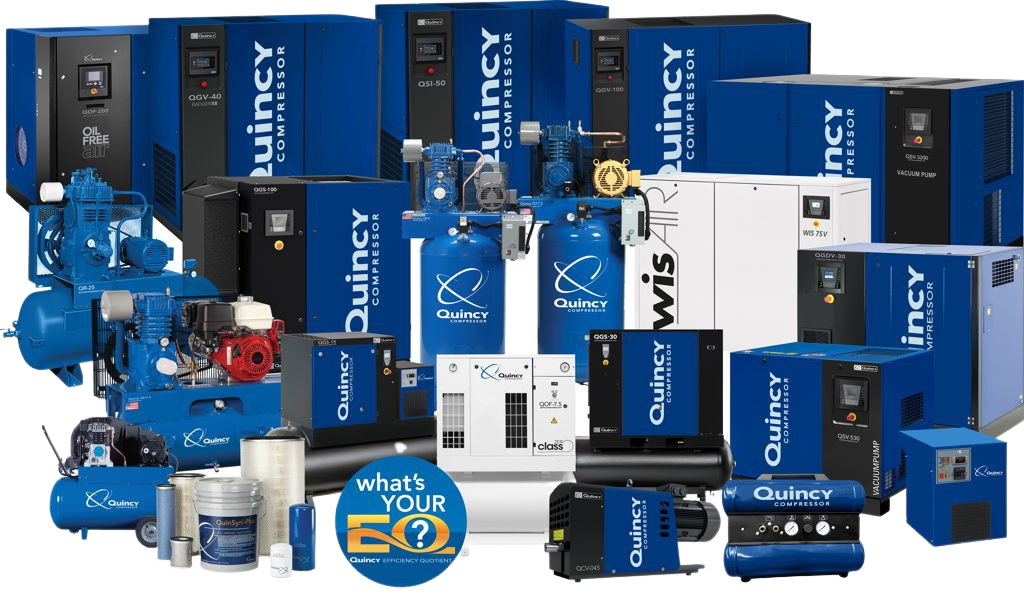 Your Trusted Air Compressor Company in Santa Ana
The Quincy Compressor location just outside Santa Ana is your home to our full lineup of systems, supplies and accessories. Our inventory includes options capable of meeting virtually any demand, and we'll help you explore all the additional ways you can upgrade your system for a custom configuration. We also offer turnkey installation services to see your new compressor purchase through from start to finish.
New Air Compressors in Santa Ana, California
Our Southern California location is home to a diverse line of air compressor units that are made in the USA and known for legendary performance and reliability. You can depend on our team of experts to help you determine which particular one is the best investment for you.
The complete catalog of products we supply to commercial and industrial producers across the Santa Ana area includes:
The products that we manufacture come backed by some of the best warranties in the business. Extended warranties are also available on select systems to provide up to five extra years of protection. Browse our different product categories to learn more.
Professional Air Compressor Repair in Santa Ana
With a Quincy system, you get the overwhelming value and performance that comes with using precision-built equipment made with quality parts. You also get the advantage of local maintenance and repair support from a skilled team of experts who are trained to work on our entire line.
If your compressor goes down, we can be there fast — we provide 24-hour air compressor repair in Santa Ana and the surrounding area. We also make it easy to keep up with all your system maintenance with several cost-effective service plans, including:
Fixed Price
Parts Guardian
Extended Guardian
Preventive Guardian
Get in Touch With Us Today
At Quincy Compressor, we have over 100 years of experience serving businesses like yours. If you're looking for air compressors in Santa Ana, California, need service or want to upgrade your system, let us know. We'll provide you with a solution that makes sense for your business and budget.
Use our contact form for questions and to get more information. For assistance over the phone, please dial 888-788-6678.