Businesses of all sizes use compressed air to stay productive. It's essential for powering tools and equipment and completing countless critical processes, but compressors are only as dependable as the company that makes them.
At Quincy Compressor, we manufacture industry-leading compressor systems that are legendary for their power, performance and longevity. We've been in the business for over a century and have built a reputation for delivering solutions that are unmatched in the marketplace.
Find Quincy Air Compressors in Weatherford, Texas
Our location serving Weatherford is your local source for our full product line and expert system services.
We have an extensive selection of compressors, vacuum systems and accessories available. Our American-made products are manufactured with precision using standardized processes and quality materials. If you need compressed air, we have the right solution, and our knowledgeable air experts will work with you to ensure your system has the right features for your application.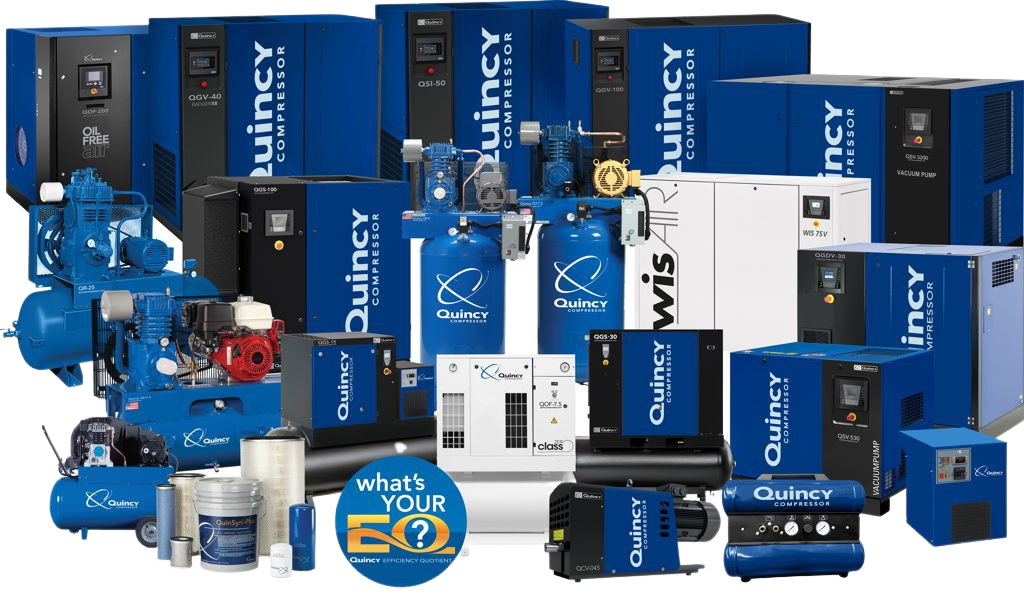 Browse our complete list of compressor systems for our full selection, or click on any of our most popular products to learn more:
In addition to the systems that power your processes, we're also your home for everything you need to keep them running and make them last. Our location in Tarrant County is your headquarters for genuine Quincy parts and fluids. Our parts professionals will help you find everything you need for your type and model system — on the first trip — so you can get back to work.
Weatherford's Source for Air Compressor Maintenance and Repair
At Quincy, we sell more than compressors — we sell peace of mind. If you have an issue with your compressed air system, we'll get someone out there to get it back up and running fast with 24-hour air compressor repair in the Weatherford area. Our technicians place the same amount of priority on the repair as you do and will work hard to keep your downtime to a minimum.
We'll also help you avoid the need for repair with our parts and maintenance plans. Proper maintenance is the most important thing you can do to ensure your system stays up and performs well. We make it easy to make sure your unit gets what it needs, whether you want to perform services yourself or have an expert technician take care of things for you. Talk to us about enrolling in one of our different maintenance programs to learn more.
Contact the Top Air Compressor Company in Weatherford, Texas
Come and visit the Quincy Compressor direct location outside Weatherford to see our product options and the benefits of teaming up with one of the oldest names in the business. One of our experts will walk you through everything we have to offer and help you create a solution that delivers what your business needs to succeed.
Visit our Weatherford-area location to get started, or reach out to our team to learn more. Dial 214-688-1677 for assistance or use our contact page to connect.