Chapter 4: The Tools of the Trade — Vessels, Stills, and Compressors
When it comes to brewing and distilling, the main equipment requirements are the proper brewing vessels, mechanical systems and distillation stills that are needed to create the beer or spirit desired. In most beverage industries, including brewing and distilling, compressed air systems are vital components in the production and bottling procedures of the finished product. It's also how to you save money in your production line.
How Breweries Use Compressed Air: Wicked Weed Brewing
A reliable and efficient compressed air system is essential for many breweries and distilleries — not only to run the operation, but also because of the large amounts of electrical energy required to generate compressed air.
"Compressed air is key for us. Our 50bbl brewhouse is automated and run almost completely by pneumatic valves and computers," said Elliot Kouns, Package Master at Wicked Weed Brewing, citing the day-to-day demands for compressed air at the Asheville, North Carolina brewery.
Wicked Weed opened its doors in December 2012 and was founded by Walt and Luke Dickinson, two brothers who had a passion for beer. With the help of family friends Rick, Denise and Ryan Guthy, the five became the owners of Wicked Weed.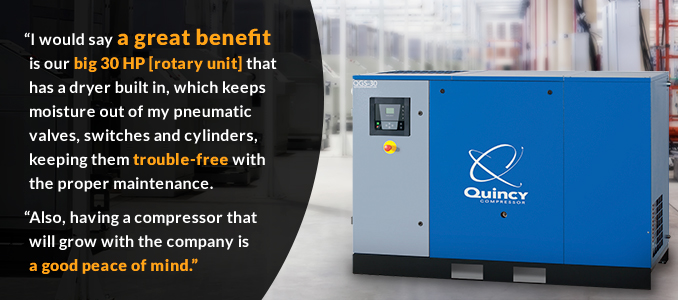 The brewery specializes in West Coast IPAs, Belgian beers and sour-wild ales. Asheville is home to two locations that are open to the public, as well as the production brewery itself.
Wicked Weed Brewing relies upon Quincy compressors in their day-to-day operations for machines that require pneumatic valves, like those equipped on the centrifuge, which clarifies the beer after fermentation. The brewery's bottling line also requires compressed air for valves and cylinders that help clean the line and remove water. Compressed air is also critical in general upkeep and repairs for the brewery's hand tools and machines.
"I would say a great benefit is our big 30 HP [rotary unit] that has a dryer built in, which keeps moisture out of my pneumatic valves, switches and cylinders, keeping them trouble-free with the proper maintenance. Also, having a compressor that will grow with the company is good peace of mind," Wicked Weed testifies.
How Distilleries Use Compressed Air: Blue Ridge Distilling Company, Inc.
Another North Carolina-based company that utilizes Quincy compressors is Blue Ridge Distilling Company, Inc. The distillery has crafted an award-winning American Single Malt Whisky, which is now sold in 25 states and four countries.
"Defiant is a new way of distilling. We're not bound by barrels or recipes or tradition. Our guides are the best ingredients, Mother Nature and our own intuition," said Blue Ridge Distiller, Eric Meech.
"We only use four ingredients, nothing more. Premium American white oak, toasted to perfection, specially cultured yeast, two-row premium brewer's barley and pure water from the Blue Ridge Mountains. Start with quality, end with quality. We're starting a revolution in the whisky world."
Compressed air is an essential component for the operations of Blue Ridge in the production of their award-winning whisky, and is used to bottle, rinse, clean, cork and run the diaphragm pumps in their operation.
Case in point: "We cannot run the distillery without our Quincy Compressor."
Blue Ridge Distilling employs the QGS-10 compressor, but many other compressor models provided by Quincy are suitable for microbreweries and distilleries' unique demands, offering the highest quality in performance and reliability.

Learn more about Quincy Compressor's products for microbreweries and distilleries by clicking on a product below.
When it comes to the demands of brewing and distilling, energy efficiency and proper maintenance are the keys to saving money on energy to create a more sustainable beverage. Identifying what your energy expenditures are, and how you can improve efficiency, will go a long way.