Chapter 2: How Did the DOE Standards Come to Be?
Currently, no federal energy conservation standards for compressors exist. However, federal test procedures for compressors came into existence on January 4, 2017. The department has worked to improve energy efficiency and set standards for air compressors and other appliances for many years. Growing awareness of the benefits of energy efficiency has supported the department's efforts.
The standards can be traced back perhaps to the birth of the department. In 1977, the Department of Energy Organization Act created this federal agency. The department was responsible for defense work including the design, construction and testing of nuclear weapons as well as overseeing energy-related programs. Before the department existed, the Atomic Energy Commission (AEC) focused on nuclear design and production, and the federal government was not heavily involved in national energy policies.
During the 1970s, Americans demanded an energy plan, and the department shifted their focus. Currently, the department focuses on finding solutions to energy problems and environmental and nuclear challenges. This includes their plan to enforce energy conservation standards for an expanding list of appliances and equipment.
In this chapter, we will explore the history behind the department's energy efficiency standards and how they came to be. As you will see, it has been a long journey for the department, but their work has made a significant impact. For example, in 2015, the average U.S. home used about 40 percent less energy than in 1970. With new standards in place, it will be difficult to look back to the early days, when energy efficiency was of less importance.
The History of DOE Energy Standards
In 1974, California's Energy Resources Conservation and Development Commission enacted the first energy standards, before the creation of the federal DOE. This commission is now called the California Energy Commission (CEC), which is the state's primary energy policy and planning organization. Today, the CEC has many goals, including achieving energy efficiency and investing in energy innovation.
On a national level, the following acts changed the way consumers and businesses view energy consumption and show how air compressor energy standards evolved:
1975: The Energy Policy and Conservation Act (EPCA) was enacted, which established test procedures, labeling and energy targets.
1979: The EPCA was amended and directed the department to establish energy conservation standards for consumer products.
1987: The National Appliance Energy Conservation Act of 1987 established a minimum efficiency standard for common household appliances.
1992: The Energy Policy Act (EPAct) of 1992 added standards for additional products such as electrical motors, and heating, ventilation, and air conditioning (HVAC) systems.
2005: The EPAct set new standards for 16 products and directed the department to set standards for another five.
2007: Congress passed the Energy Independence and Security Act (EISA), enacting new or updated standards for 13 products.
2012: The department published a Proposed Determination of Coverage to determine that compressors qualify as covered equipment under the EPCA.
2014: The department published in the Federal Register a notice of public meeting and provided a framework document that addressed potential standards and test procedures for compressors.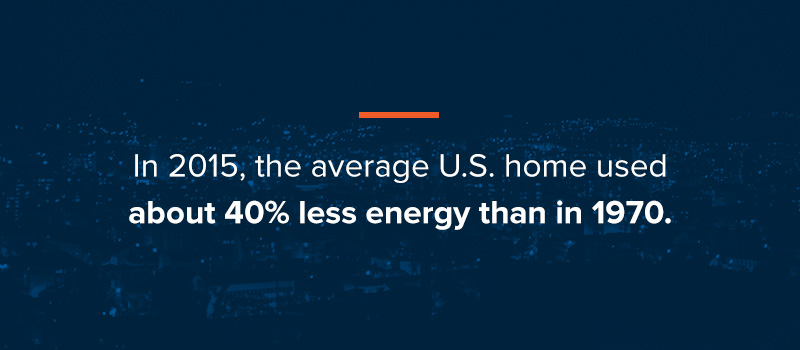 May 2016: The department published a notice of proposed rulemaking (NOPR) to propose test procedures for certain compressors.
November 2016: The department published a final rule which determined that coverage for compressors was necessary to fulfill parts of the EPCA.
December 5, 2016: The department issued a pre-publication final rule for air compressor efficiency standards.
January 4, 2017: The department published in the Federal Register a final rule for compressor efficiency test procedures.
Why the DOE Standards Evolved
Before the 1970s, not much thought was given to energy efficiency. However, things changed when the 1973 oil crisis exposed the U.S. to global vulnerability because of unstable energy supplies. Americans became afraid that the country was running out of resources. People also became aware that the extraction, processing, transporting and use of energy was a significant source of pollution. Such awareness led to new laws and demand for energy efficiency. Without the many improvements made regarding energy efficiency since 1973, the U.S. would require approximately 50 percent more energy to deliver the current gross domestic product (GDP). If energy consumption remained unchanged since 1970, the U.S. would have consumed over 200 quadrillion BTUs in 2007, when it only consumed 101.6.
Today, consumers and business owners realize the impact of energy consumption and how energy efficiency saves money, boosts productivity, improves national security and is good for the environment. Due to its benefits, most Americans encourage energy efficiency standards. For example, consider the following statistics from a 2014 Nielsen report:
Ninety-one percent of consumers are willing to change their energy usage behavior to save money.
Seventy-seven percent of consumers are willing to change their behavior to help the environment.

Sixty-six percent of consumers are willing to live with some discomfort to save money on energy costs.
Fifty-nine percent of consumers are willing to pay more for something that is better for the environment.
By prioritizing energy conservation standards, U.S. consumers can expect to enjoy the benefits of energy efficiency for many years.