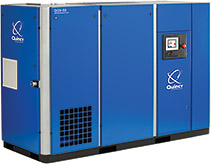 As a leading innovator in air compressor technology for nearly 100 years, Quincy Compressor is your best source for a reliable premium-performing rotary screw air compressor for a wide range of applications. Our rotary screw compressors can be found throughout the United States, as well as Canada and other counties around the world.
As a Quincy rotary screw compressor owner, you also get the benefit of unmatched product expertise, fast and dependable service provided by our extensive network of authorized sales and service partners who provide total air systems support.
Our Rotary Compressor Product Line
The Quincy Compressor screw-type compressor product line features an assortment of high-quality machines in various horsepower and psig capacities:
Superior Rotary Screw Air Compressor Products Backed by Unmatched Service
A key reason why Quincy Compressor is one of the top screw compressor manufacturers is our unwavering focus on providing world-class service for every product we sell. Authorized Quincy Compressor distributors are located across the United States and around the world. Our distributors do more than just sell our compressors — they're also fully capable of performing expert repairs and preventive maintenance to keep your compressor on the job and in peak operating condition.
Extended Warranties for Your Protection and Peace of Mind
Extended warranties are available with our rotary screw compressors, which provide extensive coverage for essential parts and components to give you peace of mind. Check out our warranty handbook to determine which warranties pertain to your rotary screw air compressor product of interest.
Increase Your Rotary Screw Compressor Knowledge Base
Unlike many screw-type air compressor manufacturers, Quincy Compressor makes a point of educating customers about our products and their capabilities. Our Knowledge Center is stocked with a host of resources that will provide valuable insight into our products and the air compressor industry in general. You'll also find links to help with our products and service.