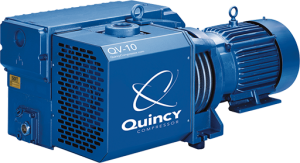 A rotary vane vacuum pump system consists of a series of parts and components, some of which may break, fail to perform or even wear out over time. Timely air compressor pump parts replacement can ensure your unit operates at maximum efficiency and continues to provide reliable service. The following information can serve as a guide to help you spot signs of trouble that could indicate that it is time for a pump air compressor parts replacement.
Low Level of Performance
A rotary vane vacuum pump can underperform for a number of reasons. One common culprit is that the vanes are worn and need to be replaced. Vane replacement should occur when the vane's length is reduced by one-fourth of an inch or more. The system's check valve could also be defective — a stuck valve that remains partially closed will impede air flow and reduce pump performance. Replacing clogged exhaust filters can eliminate excessive contamination that hinders air compressor pump performance.
Oil Blow-by Issues
The occurrence of oil blow-by could simply mean that the discharge exhaust filter is loose or not seated properly. This can be remedied by properly seating or replacing the gasket. If this doesn't correct the problem, a full replacement of the exhaust filter could be in order.
Our Quincy Reviews
Great sales staff that considers your needs and financial requirements.
– Bruce
Just a first-class piece of equipment. Works correctly out of the box. Well known reputation for quality machinery.
– Jim
The best all-around compressor built. Quincy has been a name of reliability for my compressor needs for over 30 years.
– Kirk
Excessive Heat Generation
Most rotary vane vacuum pumps are air-cooled. If the ambient temperature in the room where the pump is operating is excessive or if the unit is located near other hot-running machinery, the pump can run hot as well. Make sure your pump is not in the path of heat exhaust emitted by other equipment. You can also consider switching your pump's lubricant to synthetic oil, assuming this is permitted by the manufacturer.
Frequent Starting and Stopping
If your pump starts and stops too frequently, the vacuum switch might need to be replaced. A worn vacuum switch may result in start or stop signals being sent to the motor at irregular intervals. If you have a multiplex vacuum pump system, an excessive starting and stopping could be caused by a defective check valve. If you operate a larger vacuum pump system, consider installing a minimum run timer to ensure the pump operates for a specified period of time before shutting down.
Loud Noises
If you notice that your pump is making strange or unusually loud noises, the vanes may be worn and should be replaced. Contaminated fluid can wash-board the pump's cylinder, which will make the vanes come out of the rotor slots at an angle. In addition to excessive noise, this can cause significant damage to the vanes, as well as the cylinder.
Finding the Right Parts for Your Quincy Vacuum Pump
If you own a 5 hp air compressor pump or any other Quincy Compressor vacuum pump system, you can count on your local Quincy distributor to have the right replacement part at the right price. And feel free to contact us directly for reliable parts replacement and troubleshooting tips for your unit.
Learn more about industrial-level vacuum pumps.