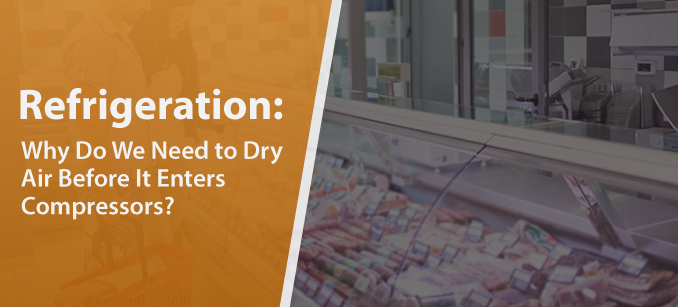 When people think about the primary elements of energy and utilities, three recourses are usually on the list: electricity, gas and water. In the world of manufacturing, however, there's a fourth key utility: compressed air.
Businesses across various industries are equipped with air compressors, many of which could be improved in terms of moisture extraction for better overall performance.
Moisture Surrounds Everything
Vaporized water is present in all natural air. After air enters into a compressor, the vapor turns to liquefied water once the air gets too cold to retain any more vapor. The coldness level that causes this process is called the dew point, and it signifies the amount of drying needed for clean air compression.
The demand for vapor-free air has risen since the spread of air compression and the increase in the number of industries that rely on the technology. As a result, the rapid development of drying equipment surged to demand.
Methods for Drying Compressed Air
For industrial applications, compressed air dryers have become one of the most important components of the compression process. Air drying is necessary for the simple fact that while air itself is compressible, water isn't. The three most common methods for ridding air of vaporized water can be summarized as follows:
The temperature is brought down and then reheated. While the air is cool, the moisture condensates and can ultimately be drained, after which the reheated air should be moisture-free.
The air is over-compressed, reduced in temperature, drained of condensate and returned to its regular pressure. This method is costly and therefore rare.
The water is absorbed from the air with a special material that is then discharged from the compressor.
The Importance of Drying Compressed Air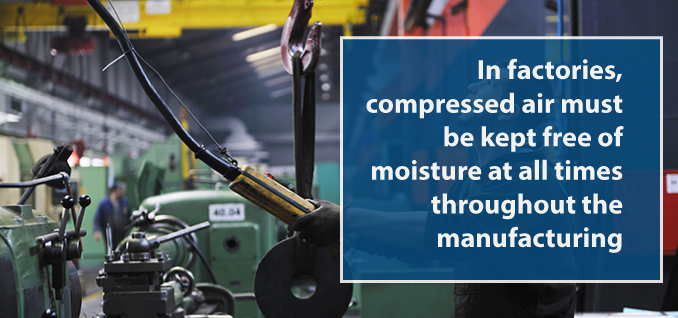 In factories, compressed air must be kept free of moisture at all times throughout the manufacturing process. Otherwise, things can go awry with various functions, such as the performance of pneumatic tools and the operation of motors and valves, all of which can negatively impact the production and the bottom line.
Unfortunately, until a short time ago the manufacturing process had no way to combat the presence of vaporized air in compressors. Consequently, the following problems related to moisture were fairly common for many years:
Rust or wear and tear of moving compressor parts due to eroded lubrication
Inconsistencies in the texture, tone and adherence of spray-painting applications
Domino effects on all functions that rely on pneumatic controls — their rusting or clogging can lead to factory shutdowns and untold financial losses
Ice formation in control lines during winter, which can prevent controls from working properly
Corrosion of tools that run on gas and air, which can lead to incorrect readings, disruptions or even failures of plant operations
As every branch of industry has come to realize, any tool that connects to an air compressor needs vapor-free air in order to perform reliably on a consistent basis.
Water Corrosion of Pneumatic Equipment
In practically every function that involves air compression, an absolute dryness of air quality will make the production more cost efficient and seamless. But if water, oil or residue makes their way onto the inner mechanisms of a compressed air system, they may weaken functioning on multiple fronts.
On pneumatic parts, the buildup of gunk via oily, vaporized air can progressively wear down the cylinders, which leads to a heightened, recurrent need for repairs on the seals and bearings. Within an abbreviated span of time, the function of such parts grind to a halt. Vaporization eats away at the oils that enable the moving parts of an air cylinder to function, ultimately causing costly malfunctions and untold losses.
Pneumatic tools and controllers that are used in all types of power plants — from chemical and sewage-treatment facilities to manufacturing and textile mills — must be supplied with dry air in order to work as needed. If vaporized air passes to the valve diaphragms, spools and pistons, the air can make them harden and crack. In productions that demand exceedingly fast performance, a worn down cylinder could defeat the whole purpose.
Air sent to converters, gauges, indicators and transmitters must be pure and moisture-free at all times. Just the slightest amount of water slipping through any surrounding hole could prevent an instrument from working and have a domino effect on the functions controlled by that instrument. The airlines that supply instruments are also vulnerable to corrosion from residue formed by moisture.
Dry air is also the utmost importance in pneumatic thermostats — their performance is responsible for the warming and cooling cycles of skyscrapers throughout the world.
The Impact of Vaporized Water on Products
On the assembly lines where containers like bottles and jars are manufactured, compressed air is used to blow these containers clean and dry. However, if water or oil is present in the compressed air during these operations, the containers could end up lined with germs or toxins. These could ultimately end up contaminating the drinks and foods that are packaged in the containers.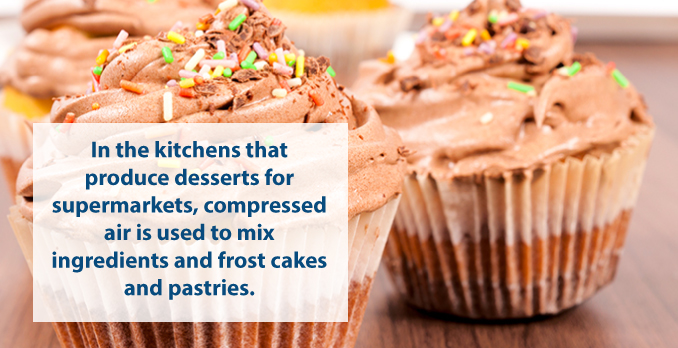 In the kitchens that produce desserts for supermarkets, compressed air is used to mix ingredients and frost cakes and pastries. Ingredient mixtures can become imbalanced, however, if moisture gets into the compressed air used in baking machinery. The same holds true at factories where liquor is bottled — the right quality of air is required to get the correct balance of ingredients.
Further examples of this type of process in action, include factories that bottle cleaning products and paints, in which oily, moisturized air could taint the mixture of a given formula.
Air used for the purposes of mixing, stirring, cleaning or moving products must be clean and moisture-free at all times. For instance, if a knitting machine's compressed air has traces of oil or water vapor, the needles stick. Fabrics can also get damaged if moisture traces are present in the air blowers used to remove lint from finished garments.
Certain printing applications involve the use of air, which serves to raise and put sheets of paper into place. However, the process could potentially be offset by the presence of water or oil in the compressed air that is used in this type of process. With some of the affected batches, inks might not even adhere to the surfaces of the sheets.
In test chambers, air is used to form wind tunnels in order to mimic wind volumes at high altitudes. During these experiments, vast amounts of compressed air create this effect, and the air must be vapor-free to keep condensate from building up on the system's equipment.
Removing Water From Compressed Air 
Due to the presence of vaporized water in natural air, there will always be a certain amount of vapor going into a running air compressor. The process of drying compressed air is accomplished in the following four stages:
#1: The Tank — The first step in the compressed air dryer process occurs in the tank. Due to the exceedingly hot temperature of air as it comes out of a pump, any water within the air will be vaporized. The tank itself will normally be at the same temperature as the surrounding room, which will cause incoming hot vapor to condense on the tank's interior walls. Therefore, a tank should be drained on a daily basis, either manually or with the help of an automated timer drain device.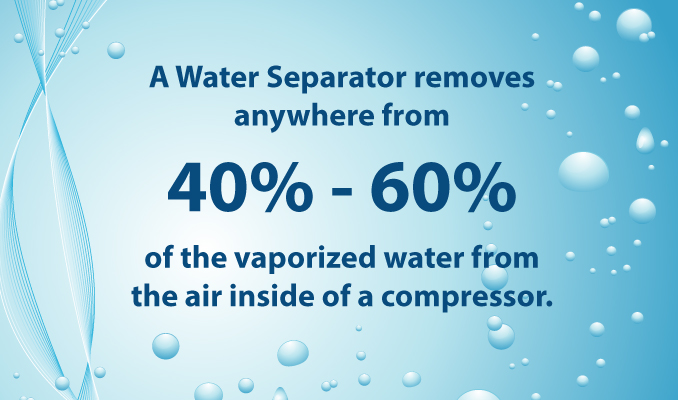 #2: Water Separator — The second part of de-vaporization involves a filter-like device known as a water separator. Incoming air is filtered through a spiral, which separates the vapor elements via centrifugal force. The success of this process can vary according to the temperature, but it usually removes anywhere from 40 percent to 60 percent of the vaporized water from the air inside of a compressor.
This should render the air dry enough for a majority of applications. Draining filters should also be installed at each applicable point to prevent water and residue elements from reaching the pneumatic tools.
#3: Refrigerated Air Dryer — The third step to removing water from compressed air is to cool down the air as it comes out of the machine. The purpose behind this is simple: Cold air is incapable of holding vaporized water. This is the reason why dew point — the air's temperature — is the chief determinant used in the process of drying compressed air. The three characteristics of air — moisture content, pressure and temperature — are all interconnected. In a refrigerated dryer, the air temperature is lowered to three degrees Celsius (or 37.4 degrees Fahrenheit).
#4: Desiccant Bead Air Dryer — The final part of drying compressed air is to lower the dew point to negative 40 degrees Celsius (negative 40 degrees Fahrenheit). This level of dryness is essential for the operation of pneumatic tools like spray painters, as well as for processes like printing. When the process gets to this stage, the beads soak up whatever water is left in the by-now cold and dry air. However, the desiccant beads aren't made to absorb significant densities of liquid, just the last vaporized remnants that can possibly be filtered before the air is put to an application. The desiccant beads last for about a year before the machine signals an indicator that a replacement is due.
Choosing the Right Compressed Air Dryer
What type of compressed air dryer is right for your operations? It could all depend on the level and scope of the application that your system is set up to run. Most operations use refrigerated compressed air dryers, which reduce the dew point to three degrees Celsius (or 37.4 degrees Fahrenheit). Provided the temperature stays at that level without falling under, a refrigerated compressed air dryer will allow a safe process.
When considering whether to buy a compressed air dryer, remember that the capacity and pressure limit must be compatible with your compressor.
On an air compressor, the dew point level is used to specify a needed amount of dryness. For that reason, pressure levels vary between different models of compressed air dryers. One mistake that inexperienced engineers make is to specify a dew point that is lower than needed, often unnecessarily boosting operating costs.

In order to find out whether the compressed air will maintain the needed level of dryness, you must know what the air is being used for and what temperature is required for the application. If the atmospheric temperature in a factory is hovering around 70 degrees Fahrenheit, the ideal dew point from a compressed air dryer would be 50 degrees Fahrenheit — basically 20 degrees lower than the surrounding temperature.
The needed dew point level can vary at different times of the year as well. During the hottest months, it isn't necessary to have a very low dew point — but a lower dew point is much more necessary in the cold of winter. Between November and February, the temperature that surrounds an air compressor is likely at its lowest, though it all depends on where an operation is located. However, an air dryer must be able to handle all the extremes in which it is placed. Therefore, the type of air dryer that you would need could all depend on how the dew point requirements are affected by your local climate.
At many refineries and plants that process chemicals, compressed air is sent through complex systems of machinery, and some of the components and lines are located outside of these facilities. In these types of plants, a single system is faced with two different temperatures simultaneously: A dryer that can perform optimally during the warmer temperatures of the day might fail to meet those same standards on cold nights.
When it comes to air for plants and instruments, a dryer must be able to prevent moisture from causing condensation or possibly freezing within a compressor system. If the system contains numerous inside pipes that could be vulnerable to decay, it's best to prevent hot temperatures from passing through the air stream.
The ratings of a dryer are one thing, but the actual performance is far more important. Even though a lot of dryers are rated 100 degrees Fahrenheit and 100 PSIG — for inlet temperature and pressure, respectively — what matters is how a dryer will function within a workshop or factory setting.
Aside from the various uses in instrument and plant operations, dryers are also used for other applications that require dew points at low levels. On railroad tank cars, for instance, the process of pneumatic unloading is powered through air compression.
Ready to Buy a Compressed Air Dryer?
Now that you've learned just how vital it can be to keep compressed air moisture-free in practically every application, it's time to make the right choice on a compressed air dryer — one that can perform at required levels, regardless of whether the ambient temperature is excessively humid or exceedingly cold. For over a century, Quincy has offered a vast inventory of air compression machinery and tools for operations large and small. We carry several different models of the refrigerated and desiccant varieties of compressed air dryers.
Here at Quincy, our customers have long reaped the benefits of super deals, durable products and round-the-clock customer support. Quincy service reps are ready to assist with any questions you might have about our inventory, deals and warranty plans.
If you're looking to boost the efficiency and lower the maintenance involved in your operations, contact Quincy today to learn more about our products.