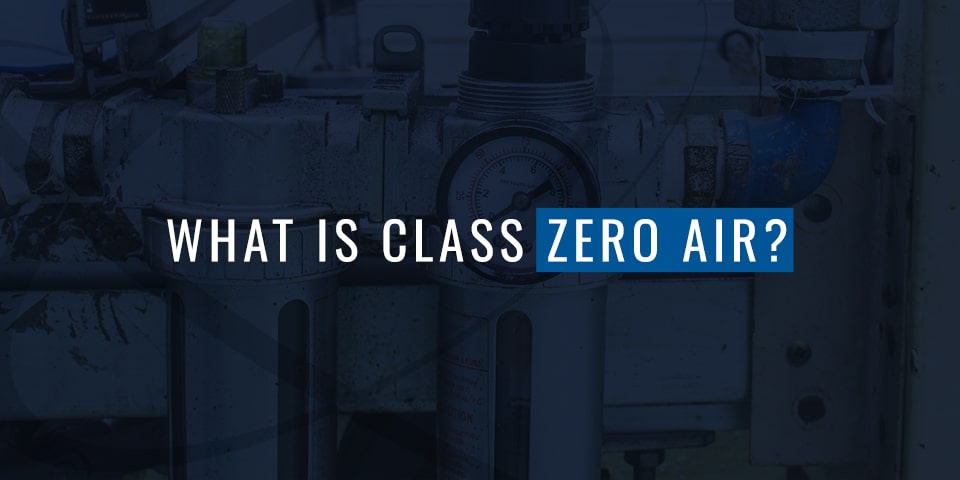 What Is Class Zero Air?
ISO 8573.1 and ISO 12500 provide a classification system to measure a compressor's ability to gauge the main contaminants in compressed air systems. This standard provides numerous compressor purity classes and identifies contaminants that may be present in the system. This classification system features nine classes.
What Is Class 0 Air and How Does It Work?
Contaminant and purity classes offer a compressed air specification system for the main contaminants in compressed air systems. Class zero air represents the best air quality possible and can ensure that compressed air is oil-free. Class zero air compressors meet rigorous guidelines and specifications to ensure the highest level of air quality possible.
A class zero air compressor offers world-class performance and ensures premium efficiency, reliability and quality. High-quality air compressors prevent oil contamination that leads to production downtime, product spoilage and even product recall. Using a high-quality air compressor can ensure your brand maintains its reputation and productivity.
Air Quality Standards
Researching different compressed air systems is the foundation when following the best practices for using compressed air. In the majority of cases, users select air compressors by comparing technical data from equipment manufacturers. The International Standards Organization (ISO) established the 8573 compressed air quality standard to help users more carefully compare important information about compressors. The ISO 8573 details how to measure and define compressed air quality.
The ISO has established the 12500 filter standard to help users understand how manufacturers test and rate compressed air filters. ISO 12500 helps define important performance details, including compressed air temperature and pressure measurements.
ISO 8573.1
ISO 8573.1 air standards feature three main contaminant types that are prevalent in compressed air systems:
Compression process contaminants: During the compression process, impurities may be introduced into the compression system. Common types of these contaminants include lubricant from the compressor, vaporized lubricant and wear particles.
In-built contaminants: In-built contaminants include compressed air systems containing common impurities, including mineral deposits, bacteria, pipe scale or rust.
Surrounding compression system: Contaminants surrounding the compression system may enter the air system through the compressor's intake. These contaminants may include airborne particles, hydrocarbon vapors or water vapor.
ISO 12500
ISO 12500 sets a standard to define critical performance indicators that provide users certifiable system performance metrics. ISO 12500 is a multi-part standard that quantifies the capacity of adsorption filters to remove vapor particles. This filter standard works well with ISO 8573's air quality standard to provide users important details about the performance of an air compressor. ISO 12500 tests coalescing filters for the ability to remove oil aerosols, adsorption filter for vapor removal capacities and solid contaminant removal for particulate filters.
The following are details on different parts of ISO 12500:
ISO 12500-1:2007: ISO 12500-1 specifies test procedures and layouts to test a coalescing filter's ability to remove oil aerosols and defines the filter's overall removal performance.
ISO 12500-2:2007: ISO 12500-2 gives means to indicate the performance of adsorption filters and their total capacity of removing vapor from the air.
ISO 12500-3:2009: ISO 12500-3 outlines metrics that can test particulate filters for their ability to remove solid contaminants.
Class 0 and Oil-Free Air Compressors
Oil-free compressors are important tools used to produce a range of products, including paper, medication and semiconductors. Even the smallest presence of oil in these applications can damage products and initiate a product recall. The term oil-free air compressor means the compressor meets certain standards to reach the highest quality certification. At Quincy Compressor, our QOF compressors, QOFT compressors and WIS compressors are oil-free and have been awarded the class zero air certification:
QOF series compressors: The QOF oil-free scroll compressor meets class zero standards and provides top-class performance. Prioritizing premium efficiency and quality, QOF scroll compressors offer outstanding sustainability and can minimize your total cost of ownership. These air compressors are built to perform in any environment while maintaining production efficiency.
QOFT series compressors: The QOFT series rotary tooth and screw compressors provide 100% oil-free air, industry-leading precision and reliability. QOFT air compressors are commonly used in many industries, including pharmaceutical manufacturing, food and beverage processing, fermentation, wastewater treatment and more. These air compressors offer advanced controls and networking abilities with a strong design that is easy to service.
WIS series compressors: The WIS oil-free water-injected screw compressor provides oil-free technology and improved efficiency with the advanced cooling capability of water. The low temperatures of compressed air can help reduce stress and wear on the components to ensure longevity. The water-injected screw of these compressors can produce highly efficient and near isothermal compression.

Benefits of Class 0 Air Compressors
Air purity is of the utmost importance for many applications and businesses. Oil-free air compressors are designed to meet class zero air specifications and follow ISO 8573-1 air standards and the U.S. Food and Drug Administration (FDA) compressed air requirements. Their advantages include:
Energy-efficiency: High-quality air compressors can increase energy efficiency and provide numerous benefits for companies. Many compressors feature improved technology, including the superior cooling capability of water, to be more energy-efficient.
Regulation compliance: Air compressors can help businesses meet operational regulations, including FDA compressed air requirements, to provide the purest air possible. Many industries can benefit from high-quality air compressors, including pharmaceuticals, electronics and food and beverage services. Class zero air compressors offer precise equipment and technology to ensure products are free from potential contamination.
Oil-free and clean air: Oil-free air compressors can deliver the highest level of air purity and prevent the risk of contamination. Additionally, oil-free air can help your business obtain an FDA certification.
Innovative technology: These compressors feature the latest oil-free technology to improve efficiency and productivity. The compressor technology meets the class zero standard and provides additional protection against product recalls and lowered brand reputation because it prevents even the smallest oil levels from contaminating your products.
Reliable engineering: Reliable compressor engineering can create a lasting product that can maximize uptime. In tandem with strong engineering, routine and proper maintenance is essential for extending the life of your air compressor.
Reduced maintenance cost: Many air compressors are low maintenance with low operating costs. Smart maintenance allows machines to offer faster and less expensive service. Easy access panels can allow for quick access and maintenance during routine service visits.
Lower cost of ownership: Oil-free technology can reduce potential expenses because these compressors don't require expensive filter replacements. There are also no added costs to combat pressure drops in filters. In addition to low maintenance costs, there are also lower costs of treating oily condensate.

Learn More About Quincy Compressor QOF Series Air Compressors
Quincy Compressor offers reliable air compressor systems with True Blue reliability and some of the industry's leading warranties. Our air compressors are specially designed to maintain their function and durability after continual heavy use. We pride ourselves on offering tough and ruggedly efficient air compressors that are supported by various accessories and air treatment options.
Browse our QOF series air compressors or contact us today for more information.