Compressed air is essential in industries such as aerospace, food and beverage, automotive, agriculture and many others. If your Clermont, FL, business relies on compressed air, the Orlando location of Quincy Compressor can meet your needs.
Quincy has been at the forefront of air compressor innovation for more than 100 years. When you visit or contact our Orlando store, you'll get access to the most advanced equipment on the market that will add value to your work processes. You'll also receive exceptional service from our network of professionals that's there to assist you every step of the way.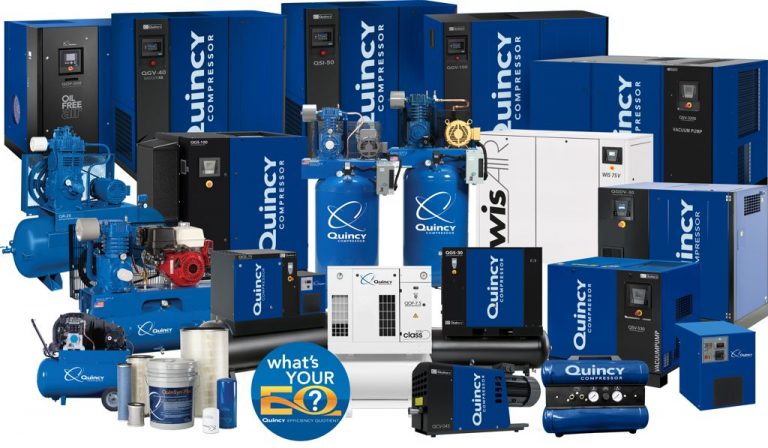 Choose From an Assortment of Compressed Air Equipment
The Quincy Compressor Clermont product line features a broad selection of air compressors and pumps for various applications. You'll find the right model for your needs, budget and operating environment among these choices:
If you're not sure which model is the right match for your business or applications, the partners at the Orlando store can provide expert advice to help you make an informed purchasing decision.
Top-Quality Products You Can Trust
Quincy Compressor is an American-based manufacturer that produces all of its compressed air equipment in the USA in an ISO 9001-registered facility. Quality is always the top priority — our goal is to offer air compressors that meet the highest performance and reliability standards and fulfill our customers' expectations.
We also back our products with industry-best warranties to give you extra protection and peace of mind. And you don't have to sign a service contract — you'll be eligible for coverage when you register your equipment online.
Complete Air Compressor Service in Clermont
Once you've purchased your air compressor, we'll be there to keep it on the job and performing at a high level. We carry parts for all Quincy Compressor models, enabling you to make quick replacements and upgrades as needed. And if you ever need air compressor repairs in Clermont, Florida, it's good to know our Orlando facility is only 30 minutes away.
Contact Us for Air Compressor Sales and Service in Clermont, FL
You'll find Quincy Compressor at 8350 Parkline Blvd. in Orlando. Stop by to see our air compressor line and meet our team today. You can also call us at 855-978-4629 or contact us online at your convenience.