Does your company depend on compressed air? If you're in the DeLand, FL, area, you only need to look 50 miles to the south for all your air compressor equipment needs.
Quincy Compressor, a leading compressed air pioneer for more than a century, is your headquarters for high-quality air compressors and much more. Our Orlando location carries the most advanced products designed to increase efficiency and improve results in any work environment. You'll also receive top-notch service and support to ensure you get the maximum value and performance throughout your equipment's life span.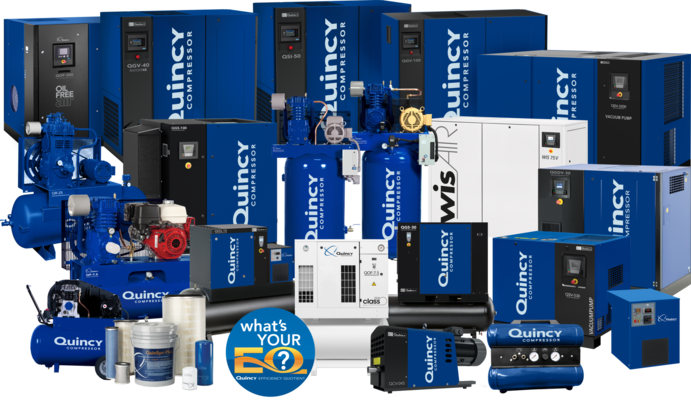 Our Lineup of Air Compressors in Florida
Many types of air compressors are available, and you'll find the right product for your applications at Quincy Compressor. Our status as an industry leader enables us to offer multiple versions of the following:
When you purchase any of these models from Quincy, you also get outstanding warranty coverage that protects you and gives you more peace of mind. And no service contract is required to get the protection — you only need to go online and register the product after you buy it.
Quality Is Our Legacy at Quincy Compressor
Quincy has a century-long track record of designing and manufacturing products that perform flawlessly in challenging work environments and stand the test of time. We produce all our air compressors in the USA in an ISO 9001-registered facility. Our processes are scalable and repeatable, ensuring consistent results that meet our customers' expectations. We also adhere to carefully developed and precisely implemented quality control measures that set us apart from our competitors.
Prompt Air Compressor Repair Service for DeLand, Florida Customers
Our Orlando location will be there to support you for as long as you own your compressors. We can handle all your repair needs, whether the job calls for a minor adjustment or a significant overhaul. We can also supply all the replacement parts you'll need to keep your equipment running well throughout its life cycle.
Learn More About Quincy Compressor in DeLand, Florida
We invite you to visit Quincy Compressor at 8350 Parkline Blvd. in Orlando to see our air compressor product line in person. To get current pricing and product information by phone, call us at 855-978-4629 today. You can also contact us by completing and submitting our online form.
Service Locations near DeLand, FL