If your Florida organization uses compressed air in its operations, you know the importance of investing in reliable and efficient air compressors for the job. When you implement high-quality compressor products into your facility, you can undertake daily operations with optimal efficiency while performing vital applications with ease. Choose a manufacturer with knowledge and experience you can rely on to get the most value from your air compressors.
You can purchase superior air compressor solutions in Florida at Quincy Compressor. We've produced innovative and quality solutions designed to endure harsh environments and exacting applications for over 100 years.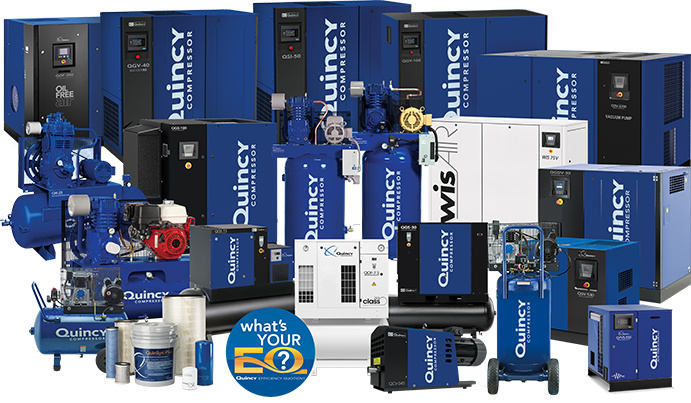 Air Compressor Types We Offer in Florida
At Quincy Compressor, we carry an extensive selection of durable, high-performance air compressors that function in even the harshest industrial environments without sacrificing quality or efficiency. Due to the many decades of design innovation and manufacturing developments we put into our products, our air compressors are known for their premium performance, high quality and unyielding reliability.
You can choose from our comprehensive product inventory to find the compressors that best serve your needs. We offer many types of solutions at our Florida locations:
Dependable Air Compressors for Your Florida Company
As trusted leaders in air compressor technology, we understand our customers' unique needs, no matter their industries. That's why we use our vast knowledge and extensive experience to help companies determine which compressors best serve their operations and objectives. Our Florida distributors also enable us to deliver around-the-clock customer assistance, so you can get the professional support you need in times of urgency and minimize downtime.
Our renowned air compressors are designed to accommodate the needs of many industries and applications. Quincy compressors have benefitted companies in many major fields, such as:
Food and beverage
Pharmaceutical
Dry cleaning
Automotive
Mining
Manufacturing
Energy
Textiles
Oil and gas
Aerospace
Plastics
Plumbing
Our Florida Air Compressor Service Locations
If you're looking to implement Quincy compressors into your facility, you can find our products in many cities across Florida. We have authorized dealers throughout the state, as well as three direct store locations:
Our Quincy Compressor locations are within a short distance of many Florida cities, from Gainesville to Fort Lauderdale to Kissimmee and beyond, meaning you can visit us wherever you are.
Purchase Top-Quality Air Compressors in Florida at Quincy Compressor
If you require a high-functioning air compressor for your Florida business, you can find them at Quincy Compressor. We leverage our century of industry experience to help our customers obtain compressed air solutions that set the standard for quality, durability and performance. When you purchase one of our rugged and efficient air compressors, you'll receive a complete product warranty for up to 10 years of coverage.
We'll help you find the best product for your business when you reach out to our network of knowledgeable air experts. Contact us for more information on our solutions, or visit your local Quincy dealer today!