Does your Kissimmee business rely on compressed air when performing many of its daily tasks? The Orlando location of Quincy Compressor has everything you need to power your tools and equipment, whether your industry is automotive, food and beverage, plumbing, aerospace or any other sector that can benefit from our advanced product line.
When you choose Quincy Compressor, you'll partner with a global leader that's been providing innovative compressed air solutions for over 100 years. You'll also receive around-the-clock support from a local distributor that understands your business and is always willing to help.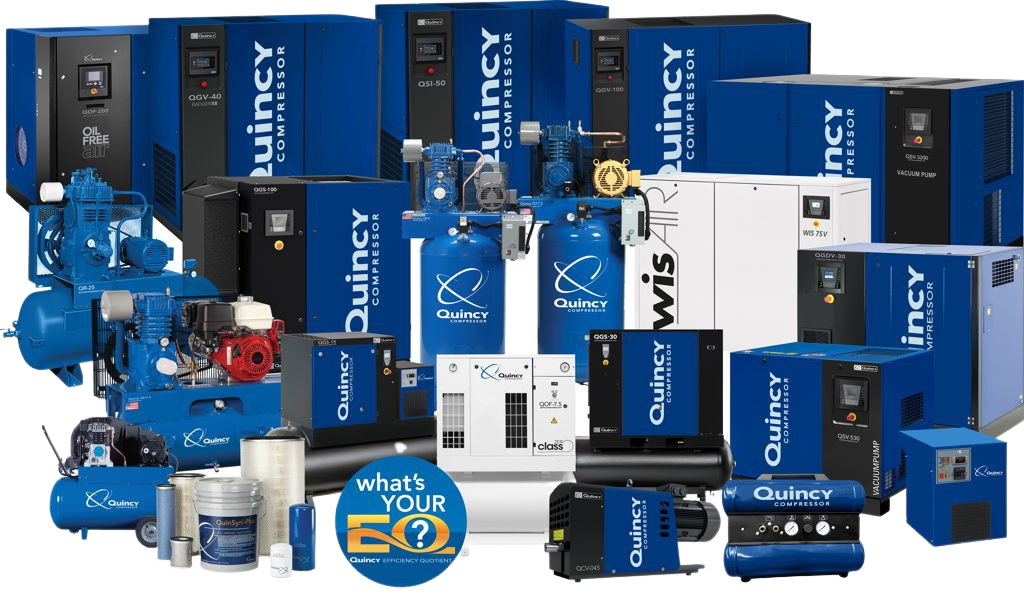 Our Selection of Air Compressors for Sale in Kissimmee
Our status as an air compressor pioneer with over a century of experience enables us to offer a full range of equipment for numerous applications. We also recognize that no two businesses are alike — with such a broad product inventory, we can provide the most reliable and efficient solution for your work environment. Our lineup includes:
Air Compressors That Deliver Exceptional Value
Air compressors must often operate in challenging conditions — like the oppressive Florida heat and humidity. At Quincy Compressor, we design and manufacture all our compressed air equipment to meet the highest standards for quality and performance. You'll get a rugged, durable product that can withstand the rigors of heavy use and provide the dependable, long-term service your business needs.
Comprehensive Air Compressor Service in Kissimmee
Once you've purchased your new compressed air equipment, we'll be there to provide top-notch service for as long as you own it. We have all the replacement parts you'll need to keep your product up and running and performing at a high level. And if you experience a mechanical issue, our Orlando location is only 30 minutes from the Kissimmee area, enabling us to deliver prompt air compressor repair service. We'll always be there when you need us!
Contact Us to Learn More About Air Compressors for Sale in Kissimmee
The knowledgeable air experts at Quincy Compressor are ready to help you choose the right compressed air equipment for your needs and applications. Take the next step by calling our Orlando location at 855-978-4629 to speak to a representative today. You can also complete and return our online contact form to get in touch.
Service Locations near Kissimmee, FL