Do you operate a business in the beautiful coastal city of Rockport, TX? Does compressed air have a significant role in your day-to-day operations?
If it's time to add to or upgrade your air compressor fleet, Quincy Compressor in nearby Corpus Christi has the right equipment for the job. Quincy has been designing and manufacturing top-notch compressed air equipment since 1920. Our local authorized partners sell and service these products and will do whatever it takes to maximize your customer experience.
We serve companies across a broad spectrum of industries, including food and beverage, climate control, energy exploration, oil and gas and many others.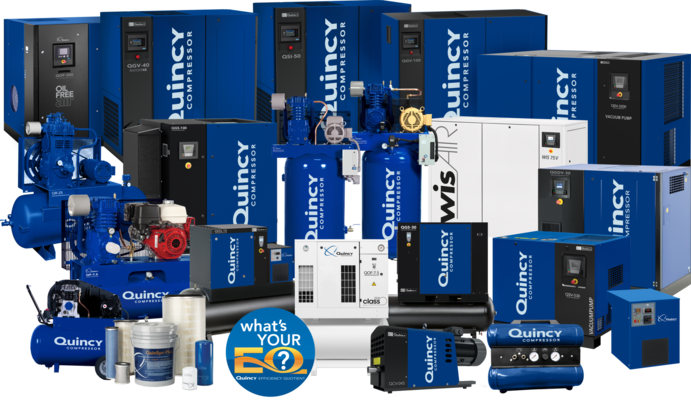 Choose From a Wide Selection of Air Compressors in Rockport, TX
Quincy continues to produce compressed air equipment that sets the industry standard. Our fully stocked Corpus Christi store offers the following products to the Rockport market:
Our knowledgeable air experts are available to help you explore all the options in each category, allowing you to make an informed buying decision. You can also protect your purchase with our industry-best warranty plans, giving you extra peace of mind.
A Century-Long Tradition of Quality
Quincy Compressor has a stellar reputation for offering equipment that delivers consistent results and stands the test of time. We manufacture our air compressors and other products in an ISO 9001-registered facility while implementing stringent quality control measures. And with their rugged design, you can count on your compressors to perform well in the most challenging conditions.
Everything You Need to Keep Your Air Compressors Running
Because our Corpus Christi location is only about 30 minutes away, we can provide prompt service for your equipment. Turn to us whenever you need air compressor parts in Rockport — we carry motors, belts, connecting rods, fluids and much more. And if you ever require compressor repair services, we can handle everything from minor adjustments to more extensive overhauls. We're also available around the clock for emergency service to keep your projects on schedule.
Check Out Your Options for Air Compressors Near Rockport, TX
Visit Quincy Compressor at 4902 Ayest St. in Corpus Christi to see our products for the Rockport market today. To speak to a local representative by phone, call us at 855-978-4629. You can also request additional information by filling out and returning our online contact form.