For over 100 years, Quincy compressors have been the go-to solutions for businesses of all sizes for performing demanding tasks across multiple sectors. They deliver power, consistency and longevity you can count on, and we make it easy to take advantage of everything they offer. Our store location in Atlanta is the area's authorized source for Quincy Compressor systems, parts, services and support.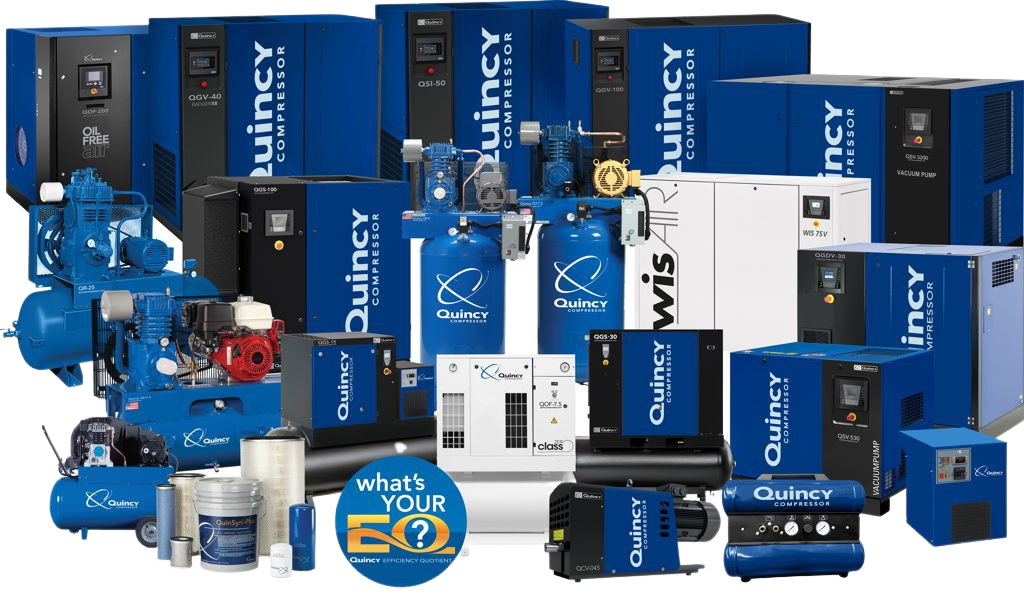 Looking for Air Compressors in Sandy Springs, Georgia?
If you're in the market for a new air compressor, nothing beats a Quincy system. Our products are held to the highest quality standards and made in the USA. They lead the industry in performance and deliver ground-breaking innovations that can help you save time, reduce costs and improve process efficiency.
The team at our store location knows all about the systems we build. You can count on us to help you find the right air compressors for your Sandy Springs business. We have an impressive selection of different types and model systems available, plus the skill and knowledge to determine which best matches your requirements.
We Have the Right Solution for You
Quincy compressors come supported by some of the best warranty coverage in the industry. The different systems we manufacture include:
Compressor accessories and enhancements are available, including air treatment products, aluminum piping and more. We also carry an extensive selection of genuine parts and compressor maintenance fluids compatible with our systems and machines from other manufacturers.
Get Comprehensive Air Compressor Services in Sandy Springs
When you buy a Quincy air compressor, you can simplify your ongoing care by enrolling in one of our service agreements. We have solutions to match your budget and your comfort level with working on your machine, with options including:
Parts Guardian plans: A Parts Guardian plan ensures you receive regular delivery of the parts and fluids your system needs at factory-recommended intervals. You'll get locked into today's purchase price, helping you budget and save on long-term maintenance costs.
Preventive Guardian plans: A Preventive Guardian plan provides you with the same locked-in parts rate, but our technicians do the labor. Our experts will perform your scheduled services and look for any signs of damage or wear to help you avoid unplanned downtime.
Complete Guardian plans: A Complete Guardian plan combines all the best features of the previous two agreements for cost-effective and convenient care. These plans will also provide you with up to five more years of extended warranty coverage on qualified systems.
In addition to our Guardian service agreements, we also offer Fixed Price Services. These are maintenance services custom-built from the ground up around your type and model system, operating schedule, facility and more. Ask our experts which plan will best fit your needs.
Speak to an Expert
Get in touch with the local team to get more information about our products and services and receive a quote. Dial 855-978-4629 or message us using our form.