Air compressors can perform many essential functions in industries such as automotive, aerospace, manufacturing, construction and food and beverage. If you're in the Union Park, FL, area and need air compressors to power pneumatic tools, paint vehicles, sandblast surfaces in a machine shop or perform any other purpose, Quincy Compressor in Orlando has you covered.
Quincy Compressor has been a leading compressed air industry innovator for more than 100 years. When you choose us, you'll get a technologically advanced product that enables you to work more productively and efficiently. We also back everything we sell with exceptional support and service.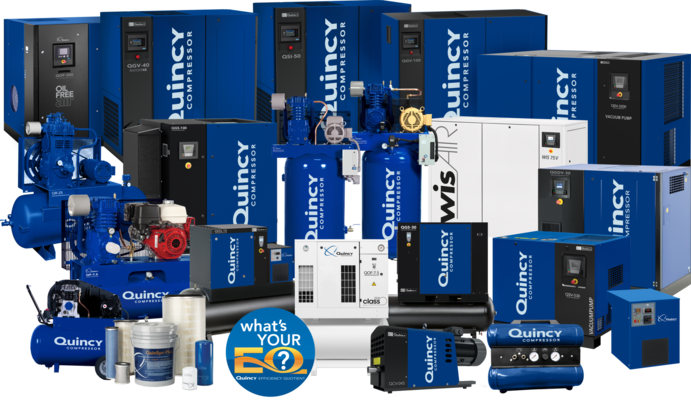 Our Broad Selection of Air Compressors in Florida
The Quincy product line continues to evolve to meet our customers' changing needs. Our extensive inventory encompasses numerous categories, each of which contains multiple offerings. Select from the following:
We support our products with industry-best warranty coverage, allowing you to buy from us with complete confidence. We also offer optional extended warranty plans, giving you the extra protection you need over a longer time frame.
Unmatched Quality Sets Us Apart
We recognize that air compressors must often perform in the most demanding conditions. At Quincy Compressor, every piece of equipment we manufacture is up to the challenge. Our ISO 9001-registered facility adheres to the highest quality standards, ensuring a product that meets our customers' expectations. You can also take pride in purchasing a compressor made in the USA. Unlike some of our competitors, we don't believe in overseas outsourcing that may cut costs but pose quality issues.
Comprehensive Service for Air Compressors in Union Park, Florida
If you ever have an issue with a Quincy Compressor product in Union Park, know that our Orlando location is only about 20-30 minutes away. Our prompt repair service can save valuable time by having your equipment up and running again quickly. And if you ever need replacement parts for any Quincy model, we'll surely have what you need.
Contact Us to Learn More About Our Products and Services
For more information and a closer look at our air compressor lineup, stop by our Orlando location at 8350 Parkline Blvd. today. You can also call us at 855-978-4629 to speak to a representative. To reach us online, fill out and return our contact form.
Service Locations near Union Park, FL