Chapter 4: Questions to Ask Before Buying an Air Compressor


When buying an air compressor, it's best to get all the details rather than picking something that seems right. Once you understand the specifications of different air models, it can still be challenging to know what type of air compressor you should buy. Asking yourself some questions can help you narrow down what to look for in an air compressor.
Rather than risking getting the wrong air compressor, asking the right questions can help save you time and ensure that you pick the best air compressor for your use from the start.
General Questions to Ask
Here are some general questions to ask yourself before looking for and purchasing an air compressor, which will cover everything you need.
Where Will You Be Using Your Air Compressor?
You first need to determine where you will be using your new air compressor. For example, you may want to use your air compressor across your work site rather than in a single location. In this case, you'll want to look at portable models, many of which come with wheels so you can easily roll the compressor from one location to the next.
Remember that a portable option will likely have less power than a stationary option. If you need a high power level but still something portable, you could consider using longer hoses on a stationary model to reach different locations, so long as the distance between uses isn't too large. This approach allows you to reach the necessary CFM without risking a quick burnout with a portable model or using too much electricity.
Is There a Dependable Electrical Supply?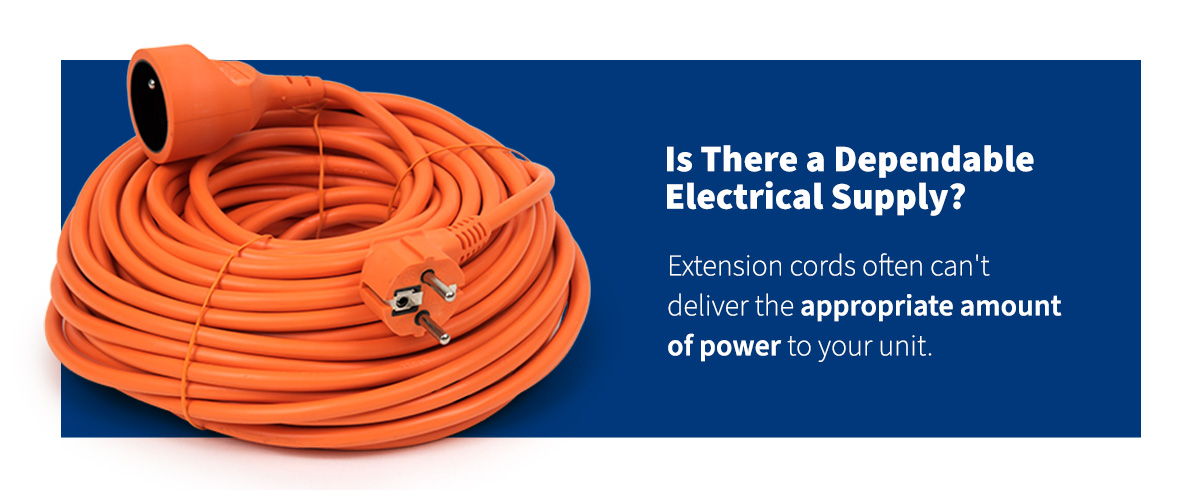 Some air compressor models require electricity to run, meaning you'll need access to an outlet and a dependable electrical supply. Knowing whether or not you have electricity on site will help you determine if you can go with an electric model or if you'll need gas. Using a gas generator is generally not recommended if you can avoid it, as the fluctuations with generators can cause damage to your air compressor, impacting its life span. It can also affect your warranty from some manufacturers.
Extension cords also tend to be an unreliable fix for air compressors since the power supply from these cords often can't deliver the appropriate amount of power to your unit. Rather than trying to use extension cords, you can use long hoses instead, which will help you reach areas further away while still using electricity. Your owner's manual can also help you determine what types of power cords you can use and how to extend your reach for use.
You'll want to pick a gas model if you cannot find a dependable electrical supply. If you have to use a gas-powered unit, perform regular maintenance and service to keep it functioning at its peak for as long as possible.
What Tools Do You Want to Use With Your Compressor?
The types of tools you want to use will come with different requirements. Knowing what tools you want to use beforehand can help you determine what type of air compressor meets your required specifications.
You'll want to look for the average CFM rating on each tool to help you better understand what you're looking for and what compressor will give you the power you need.
Determining Specifications
Once you know what tools you want to use with your air compressor, you can determine what specifications you'll need to look for during your search. Failing to meet these specifications when buying a compressor could mean that your tools won't work as efficiently, impacting your ability to complete tasks. Consider these specifications when choosing an air compressor.
What Is the Maximum Operating Pressure You'll Require?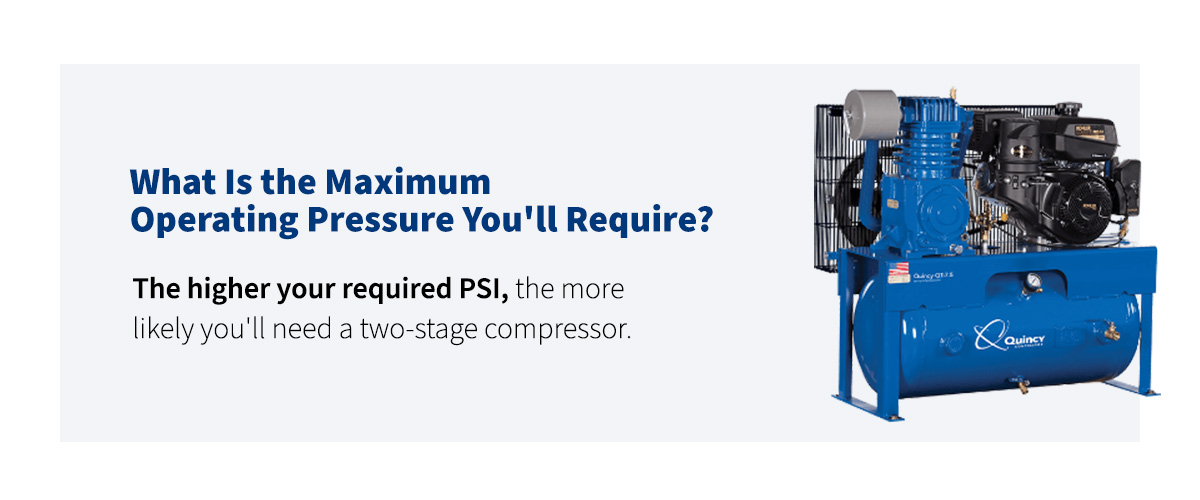 Knowing your maximum operating PSI will help you choose the right air compressor since you'll want the same PSI rating. You'll also be able to determine if you need a single-stage or two-stage compressor. Two-stage compressors have an additional compression step, which increases the PSI. The higher your required PSI, the more likely you'll need a two-stage compressor.
You can determine your required PSI by looking at the specifications of your tools. Choose the highest PSI to decide which air compressor you should select. For example, if you have multiple tools and the highest PSI rating is 90, you'll want to pick an air compressor with a PSI rating of at least 90.
What Is the Maximum Air Volume You'll Require?
You'll also want to determine how many CFM you'll need the air compressor to produce. Most tools are marked with an average CFM, which is only about a fourth of its continuous CFM. If you plan on running your air compressor regularly, you should multiply your average CFM by four. This number will help prevent you from underestimating how much air power you need to do the job. Do this calculation with your highest-rated tool to ensure your air compressor will continue to perform during the most demanding uses.
You'll also want to consider whether or not you'll be using one or more air lines for your tools at a time. If you plan on using two or more lines, add together the minimum CFM rating of all the tools you'll use at once to be sure you'll have enough air power.
For example, if you plan to run two lines and one of your tools has a CFM rating of 7 and the other of 6, you should look for a compressor with a CFM rating of at least 16.
What Size Tank Will You Need?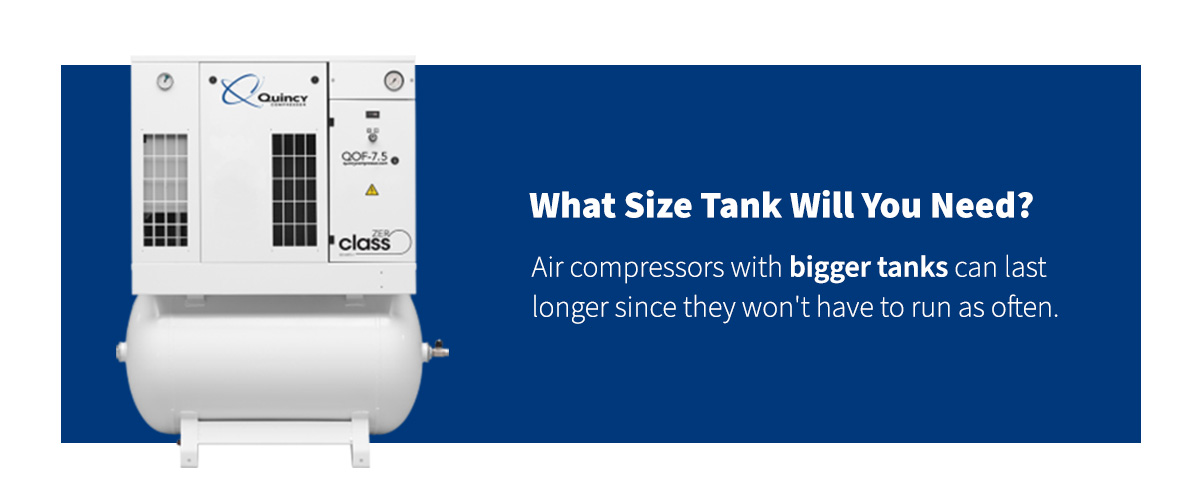 Most manufacturers measure their tank sizes in gallons, and your tank size will affect your ability to use particular tools. For example, continuous-use tools will need larger tanks since they rely on an ample supply of pressurized air. It's not as easy to determine what tank size you need to find the CFM. Instead, the best thing to do is go with the biggest tank you can reasonably afford and house.
Going bigger is better since you won't have to worry about waiting for the tank to fill up as often, making you wait longer to complete jobs and putting a strain on your compressor's motor. Air compressors with bigger tanks can last longer since they won't have to run as often, allowing you to get the most out of your investment.
What Horsepower Is Needed for the Motor of Your Air Compressor?
The horsepower rating helps you determine the motor or engine's power. While it's not directly related to tools, horsepower does help you determine how efficiently the air compressor can deliver the air. Higher horsepower means that your tank will fill more quickly and efficiently, which can save you time and help you complete jobs sooner.
Once you've answered these questions, you can move ahead with your purchase. You can always ask more specific questions, such as what air compressors are commonly used in your industry, but the questions above will help you find the right option for your needs.
Quincy Compressor will help you find an air compressor that meets all your required specifications. We work with numerous industries, and our years of experience give us the knowledge and expertise to help you choose the right air compressor. If you're looking for a high-quality, reliable air compressor, find a Quincy Compressor location near you or contact us today!
Choosing the Right Air Compressor With Quincy Compressor
Ensuring you choose the suitable air compressor is essential since the device will help streamline many processes and keep your home or business in the best condition. When selecting an air compressor, you must first determine what power source you'll use or what you have available. For example, you may conduct much of your work inside, meaning you won't be able to use a gas-powered air compressor since the fumes can be hazardous to workers. If you choose an electric-powered compressor, you'll want to make sure you have access to an outlet nearby.
Once you know your power source, you can start looking at specifications. For example, you might want an air compressor with a higher horsepower to generate more air pressure. You may also look at tank size to ensure you have enough space to accommodate all the pressurized air you need for your processes. Figuring out the specs will help you narrow down your options and choose from the different types of air compressors.

Some types are more suited to different industries and uses than others. Rotary screw compressors are often used in industrial settings since they provide high-powered air with extreme precision. If you're a homeowner, you'll likely want to choose a smaller, more portable unit better suited to your needs, whether it's inflating different items or pressure washing your home.
Quincy Compressor can help you find the right air compressor to meet your requirements. Our experts have the knowledge and expertise to help you choose the right compressor, whether you're a large manufacturer or a small-scale business in your local area. We serve many industries, including agriculture, amusement parks, manufacturing, plumbing and woodworking! Since 1920, we've provided solutions for businesses around the world. Our extensive line of products means you'll find everything you're looking for, and one of our experts can help you find the right fit for your business.
Our products are high-quality and can meet even the most demanding application needs. We protect our compressors under industry-leading warranties, which cover your compressor as long as you perform regular maintenance while using Quincy parts and fluids. We also offer extended warranty plans for reciprocating and rotary screw products. Quincy Compressor also provides reliable service 24 hours a day to ensure your air compressor continues to serve you for as long as possible.
With Quincy Compressor, you can rest assured that you'll continue to see the value in your purchase for years to come. Contact our network of professional and knowledgeable air experts to help you choose the appropriate product or find a location near you to talk to one of our representatives in-store!