Air compressors serve as essential equipment in a wide range of industrial applications, helping companies perform compressed air operations that keep their businesses running. However, not all compressors are created equal. That's why it's vital to purchase reliable solutions from manufacturers that meet your high quality and efficiency standards. With the right air compressor products in your facility, you can ensure that your everyday processes continue as intended.
With Quincy Compressor as your manufacturer of choice, you can secure top-quality air compressors for your Georgia business. Our industry-leading products are expertly engineered to function reliably for decades, no matter how demanding the application, and set the standard for power and performance. With over 100 years of dedicated service in our industry, we have the knowledge and experience you need.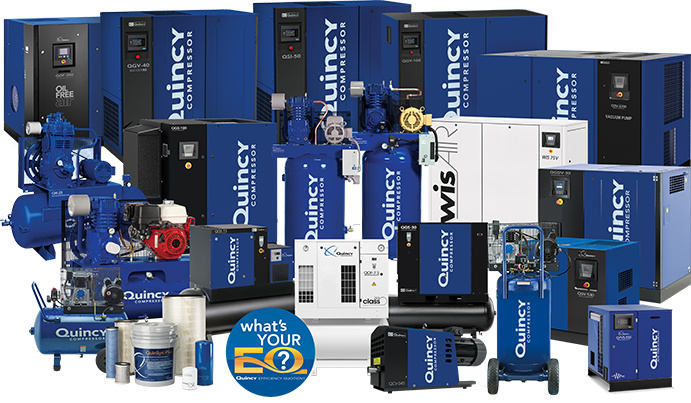 Quincy Compressors for Sale in Georgia
When you come to Quincy Compressor to fulfill your compressed air needs, you can browse our extensive inventory of high-quality air compressors in various models and configurations. Our robust and efficient products are built to operate dependably in harsh industrial environments due to their exceptional durability and longevity. Quincy compressors are backed by decades of industry innovation, enabling them to deliver premium performance while exhibiting top quality and reliability.
You can keep up with your company's growing production needs with superior compressors from our comprehensive product lines, such as:
Quality Air Compressors for Any Industry
When you do business with us, you receive several significant benefits. Thanks to our local dealers, we provide 24-hour support, enabling companies to get their operations back on track with as little downtime as possible. We also assist our customers with their product choices, using our vast industry knowledge to guide businesses toward the air compressors that benefit them and accelerate their applications.
Companies across many diverse industries use our air compressors in their everyday operations. Some of the many fields our solutions serve include:
Pharmaceutical
Manufacturing
Plumbing
Oil and gas
Energy
Plastics
Food and beverage
Textiles
Automotive
Aerospace
Textiles
Dry cleaning
Our Georgia Air Compressor Service Location
You can purchase Quincy compressors when you visit any of our authorized dealers positioned throughout Georgia. We also have a direct store location in Atlanta, which is conveniently located near several other Georgia cities.
You can find Quincy Compressor at 14500 A-C Lochridge Boulevard in Covington, Georgia.
Secure Your Quincy Air Compressors in Georgia Today
If you need high-quality air compressors for your Georgia business, you can purchase them at Quincy Compressor. When you invest in products from us, you can expect robust, long-lasting solutions that exhibit nothing less than the most reliable performance for years to come. We also offer our industry-leading warranty plan for our compressors, which provides up to 10 years of comprehensive coverage.
Contact us for more information on our products, or visit your local dealer today!