If you use air compressors in your industrial facility, you know the importance of securing durable and efficient equipment from a dependable manufacturer. When you obtain high-quality compressed air solutions for your company, you experience long-lasting performance that keeps your operations moving forward while serving your individualized needs.
Incorporate high-performance air compressors into your New York facility when you choose Quincy Compressor as your go-to manufacturer. We've been in business since 1920 and have produced top-quality air compressors since 1924, providing dependable and efficient products equipped to undertake even the most demanding industrial applications.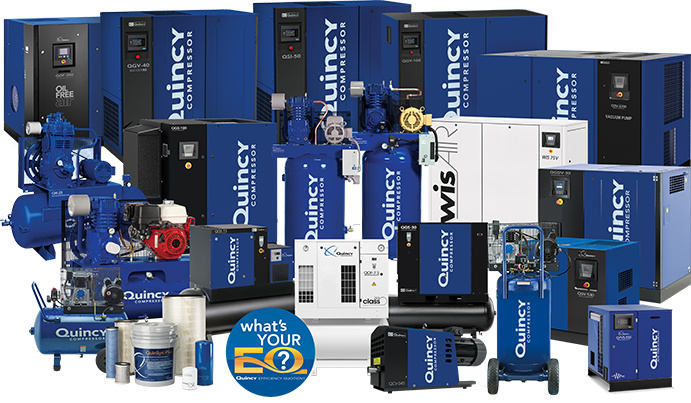 Air Compressors We Carry in New York
At Quincy Compressor, we offer a comprehensive array of robust, high-performance compressed air solutions designed to function reliably in demanding industrial environments without faltering in efficiency. Our air compressors are known for their high quality, unyielding dependability and premium performance, which come from many decades of design and manufacturing advancements.
You can find a wide range of product types in our air compressor inventory to help you keep up with your company's most exacting operations. We carry all the following air compressors at our New York locations:
Powerful Air Compressors for Your New York Business
Quincy Compressor is still manufacturing superior air compressors and parts over a century after our founding. We use our extensive industry experience to provide our customers with exceptional assistance, helping them choose the solutions that best meet their unique needs by offering expert guidance. Our local distributors also allow us to deliver 24-hour services and customer support, helping you stay on schedule by minimizing downtime.
Our industry-leading air compressors can accommodate dozens of applications due to their exceptional versatility. Some of the many industries that benefit from our compressors include:
Aerospace
Energy
Manufacturing
Food and beverage
Mining
Pharmaceutical
Oil and gas
Plumbing
Plastics
Textiles
Automotive
Dry cleaning
Our New York Air Compressor Service Locations
You can purchase high-efficiency air compressors for your business from Quincy Compressor, no matter where you live. We have two New York store locations, making it easy for customers in surrounding cities to visit:
Our Bronx store is located at 796 East 140th Street in the Bronx, New York, off Bruckner Boulevard and conveniently located by the Bruckner Expressway.
You can find our Deer Park location at 87 East Jefryn Boulevard in suite B, just off of Grand Boulevard.
Invest in Quality Air Compressors in New York at Quincy Compressor
If you're looking for state-of-the-art air compressors in New York, Quincy Compressor has the solutions you need. With over a century of experience providing our customers with rugged and efficient compressed air products and exceptional customer service, we're the experts you can rely on. Our awards and achievements highlight our expertise and dedication to quality.
Find a Quincy Compressor store near you, or contact us to get in touch with one of our knowledgeable sales and service representatives!