Chapter 1: A Brief History of Pit Crew Racing
The sport of NASCAR has always been a product of the times, and in its formative years, was a way for bootleggers to outrun the authorities. But it wasn't until William "Bill" France arrived on the scene that the concept of stock car racing was given the momentum it needed to mature.
In 1934, Bill France convinced the Daytona Florida Chamber of Commerce to stage a race along the hard-packed sands of Daytona Beach. Fourteen years later, the National Association for Stock Car Auto Racing was founded, and a true American motorsport was born.

Early Circuit Conditions
On June 19, 1949, the cars that ran along the three-quarter mile dirt track in Charlotte, N.C. for NASCAR's inaugural Strictly Stock — now Sprint Cup — series were super-charged versions of then street vehicles. Although they appealed to the everyday driver, none could have guessed at the drama that unfurled behind the scenes of the 200-lap race.
A general lack of formal regulation around technical specifications meant that many race results were hotly contested. While Glenn Dunaway came in first, the title and the $5,000 purse was eventually awarded to Jim Roper. Roper placed ahead of Bob Flock — who was tipped to win as he held pole position. Flock may have won if his engine didn't malfunction just five laps into the race.
The reverse decision came about after officials discovered the owner of Dunaway's car had shored up the vehicle's chassis to make it more predicable in the turns. This adjustment was the fulcrum for how NASCAR would come to govern the sport, and how the role of modifications and mechanics would play in race outcomes.
Early 1950s
Pit stops were rarities in this early era of auto racing due to an average track length of little more than 100 miles. However, the Southern 500 at Darlington, which began in 1950, was an entirely different event and required drivers to pull in at regular intervals over the course of 400 miles.
Crewmen ready to jump into action were outfitted in regular coveralls, and worked with pit road tools like four-way tire irons, slow-flowing fuel cans and bumper jacks. But at 55 seconds, this pause posed a significant risk for drivers who desired leading line-up positions.
Early 1960s
The next decade brought about a period of increased efficiency with the adoption of air compression technology developed in the 1950s. The implementation of impact wrenches and floor jacks reduced the time it took for pit crews to deliver by 17 seconds.
Most pit stops — if they were necessary — were for two-tire changes, refueling and oil checks, but the arrival of longer asphalt speedways placed a heavier emphasis on regular upkeep.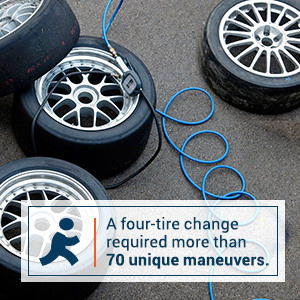 Late 1960s and Early 1970s
By this stage, pit crew operations reached a 33-second milestone. The introduction of choreography streamlined the over-the-wall routine and made four-tire changes possible — a task which requires more than 70 unique maneuvers. Drivers often insisted on two-tire changes, which could be carried out in under 20 seconds.
The 1970s saw lug nuts being glued to wheels to increase top speeds and free-flowing fuel cans replacing their outdated counterparts. In 1974, the use of gas caps was completely abandoned. All of this motivated a need for the specialization of pit crew job roles.
Late 1980s
The idea of specialized roles within race car pit crews finally took hold in earnest with Richard Childress Racing elevating the perception of the profession. Taking note of the changing landscape partway through the 1981 season, Childress placed Dale Earnhardt in vehicle No.3 for the race at Michigan International Speedway in August.
While Childress and Earnhardt managed to take two, top-five and six, top-10 finishes in the final 10 races, Childress felt the pit crew team wasn't up to snuff. Years later, members of the No. 3 Goodwrench team became known as the "Flying Aces" — a noticeable improvement on their previous "Junk Yard Dogs" moniker.
Finally, four-tire change times approached the 20-second mark, and NASCAR entered another age of rapid development that gave rise to a format millions of fans around the world now demand.