Conclusion: NASCAR as a National Phenomenon
Very few sports have been able to attain the height and fame NASCAR has enjoyed over the span of its lifetime, and fewer still have the ability to forge ahead in uncertain times. The key to achieving both is a heavy investment in technology. If it weren't for the wholesale use of pneumatic tools in the 1950s, NASCAR as a sport may have developed differently over the years.
While it might have been drivers like the indomitable Richard Petty who propelled stock car racing to stardom in the 1970s — with a little help from corporate sponsorship — the specialized and choreographed pit crews enabled their victories.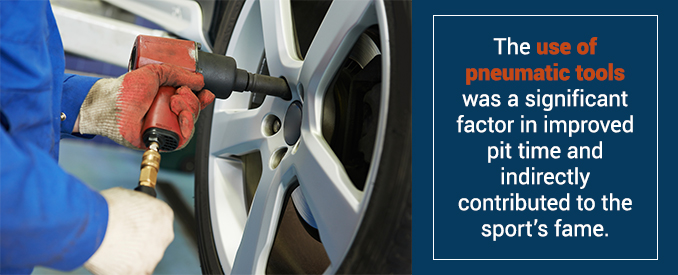 When crew chiefs set their sights on a 12-second target, recruited top collegiate talent and provided their personnel with the right tools for the job, fans were stunned to see teams take home more wins than anyone thought possible.
Excitement, if it had ever left the game in recent years, now surrounds the sanctioning body's agenda, and rightfully so. NASCAR's recent experiments with the implementation of mid-season rule packages should bring a few new surprises to the track — and a more technologically-minded kind of pit crew to the infield.
Though it's doubtful a target of less than 12 seconds will ever be pursued in future for fear of tampering with a tradition that has become a science and an art, the search for any edge over the competition will continue to produce great racing.
Regardless of what the future may hold, fans will be able to look out across the track and see the sport revolving around the pit crews and the tools they use, just as it always has.