Chapter 7: The Future of Pit Crews
One thing is for certain — in the sport of NASCAR, pit crews will always be in use! They've carved out a niche and are now not only recognized as a valuable asset, but are seen as a central pillar in the structure of auto racing.
As the governing body brings in stricter rules to police the implementation of newly developed technologies and shape NASCAR's image, the crew's role and function will continue to evolve.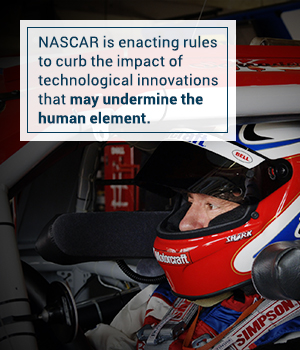 Most Recent Rule Changes
NASCAR has introduced a variety of rules packages over several decades, and they're all geared towards a common goal — curbing the impact of technological improvements that threaten to undermine the sport's human element.
In general, teams will race at lower horsepower outputs, be barred from testing and may face wet weather conditions in upcoming Sprint Cup seasons. Specifically, the 2015 rule package mentions:
Reducing horsepower from 850 to 725 via tapered spacers
Prohibiting all team-initiated testing outside Goodyear Tire tests
Capping the rear spoiler height at six inches, down from 7.25
Authorizing the use of roller valve lifters over flat valve lifters
Placing a strict 38-inch width specification on all radiator pans
Dropping the minimum "unoccupied" car weight to 3,250 pounds
Altering group qualifying to determine the Daytona 500 front row
Mandating a lower differential gear ratio for a 9,000 RPM target
Of the changes, executive vice president and chief racing development officer for NASCAR, Steve O'Donnell said they were necessary to provide fans with the best possible racing experience.
Impact on Sprint Cup Racing
Teams competing in the 2015 Sprint Cup Series Quaker State 400 at Kentucky Speedway were given just seven hours to practice when NASCAR announced the low downforce rules package mid-season and ahead of the race.
In the weeks that followed, several other raceways, including those at Indianapolis, Michigan, Richmond and Darlington, were subjected to similar changes — this time in relation to higher drag coefficients and lower horsepower outputs.
Such measures are preempting the vehicles that will come to the track in 2016. Figuring out how to account for each flow-on effect and what this means for the driver is an important step in meeting the challenge. For example, the crew must be able to identify those areas where a vehicle with a less powerful engine, a smaller spoiler and a lighter load can make up for time lost on the straightaways.
Failing to get the car tuned to NASCAR's exacting standards is not an option any crew can afford. Thus the drivers are made to play a more active role in the outcome of a race and the teams that work their magic retain their relevancy.

The dynamic between the governing body and the pit crews is one that breeds innovative solutions to an established method and practice. While it may be a constant battle to keep things interesting, reinvigoration assures the survival of the sport.
What remains to be seen is just how far NASCAR is willing to push the envelope.
Emphasis on Safety
Most of the time, it's the tire changers who expose themselves to the most risk. If they aren't running out in front of the vehicle when it pulls up, they are in close proximity to the gas man who works with flammable liquids. On April 24, 2015 at Richmond International Raceway, it wasn't a car that injured rear tire changer, Anthony O'Brien — it was a fire.
When a fuel tank probe failed to align properly with the intake, gas spilled out onto the road and ignited moments later. Though safety personnel did manage to get the situation under control in short order, the damage had already been done.
In the wake of that incident, the governing body took stock of what fire-retardant gear crews already employed and mandated that a higher standard be met across the board. The blanket ruling was a decision many team members found troublesome.
Zero Injury Approach
NASCAR is clearly set on ensuring the safety of the men and women who keep the vehicles on the track and make the sport what it is. But the work performed on pit road calls for finesse and dexterity, and any new decision impacts the pit crew's capability to carry out their responsibilities.
A little discomfit seems a fair price to pay considering the fact that NASCAR averaged around 220 accidents per year over a 9-year period from 2001 to 2009 — a statistic which had critics wondering why the number of serious and sometimes fatal accidents has not been reduced to zero.

The simplest answer is that the sport is always evolving at a faster rate than the sanctioning body can handle. Implementing reactive safety measures are not enough, and unfortunately, an inflexible preemptive approach may seem to hinder the sport's growth.
That said, fans can expect the safety precautions to accelerate — especially when it comes to pit road, which is arguably the most dangerous length of track.
Automated Officiating Systems and Pit Road Penalties
In an effort to increase pit crew safety and level the playing field, NASCAR has rolled out an automated officiating system that makes use of multiple cameras and supplants the role of the official. They now make their rulings from a trailer based on reviewable video evidence.
While the feeds can be played back frame by frame, the technology isn't being used to enforce new rules, but to ensure that any pit-road violations are properly flagged and teams held accountable.
With this technology now in place, NASCAR has done away with the penalty applied by officials to loose lug nuts. It used to be that the pit crew would be penalized on the grounds of nonperformance for issues like this, but now teams are free to use their discretion.
That said, if a tire pulls free near the end because it was held in place by only four lug nuts, any time gained would be more than offset by a newly devised and much more serious P3 penalty — a deduction of 15 driver and owner points, a crew chief suspension and a $20,000 to $50,000 fine.
Playing the Points
The current points system has been in operation since 1975 and awards a maximum of 48 points, with 43 for a race victory, three bonus points for winning, one bonus point for leading a lap and one additional bonus point for leading the most laps. At the end of the season, the points are totaled and a championship winner is announced.
Car owner points are used to determine which drivers are guaranteed a qualifying spot and which will be assigned a provisional starting position. Lastly, they're used to lock in the starting lineup should qualifying be canceled. In general, every single race is important in NASCAR.
So when Kasey Kahne, Dale Earnhardt Jr.'s teammate at Hendrick Motorsports, received a P3 penalty in Atlanta after a tire rolled too far from the pit box, he and crew chief Keith Rodden knew the punishment would be steep.
The role of an automated officiating system is still up for debate, as there have been other instances where such penalties may not have been deserved. Regardless, the hope is that once teams begin to trust the accuracy of the camera, they will take the time to shore up any weaknesses.
RFID Performance Tracking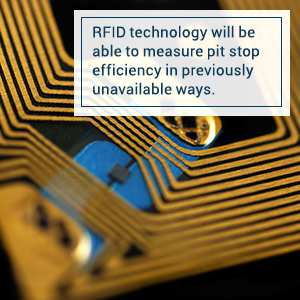 The fact that NASCAR was willing to invest so heavily in automated officiating, devoting all of 2014 to researching and developing the new system, indicates a firm direction going forward.
Realizing this, Michael Waltrip Racing entered into a partnership with the makers of MotionWorks, an RFID software package that measures pit stop efficiency in ways previously unavailable.
The high-frequency location-based technology — which is capable of calculating proximity in a 3D space — is being used as a training tool to help pit crew members achieve the level of accuracy that's now being demanded by the governing body.
The only problem so far is that the system has not been approved for use in competitive races. But, it has the potential to influence the sport like nothing else. It's only a matter of time.