If you need an air compressor for your Texas business, Quincy Compressor has the solutions you need. Our commitment to uncompromising reliability and premium performance makes our air compressor products the best fit for nearly any industry. We produce high-quality air compressors that can withstand rough environments and demanding applications, ensuring you have the most durable products available to keep your work moving efficiently from day to day.
Quincy Compressor is proud to offer knowledgeable service and innovative products to the state of Texas. With dealers and direct locations throughout the state, we can accommodate your needs wherever you are located.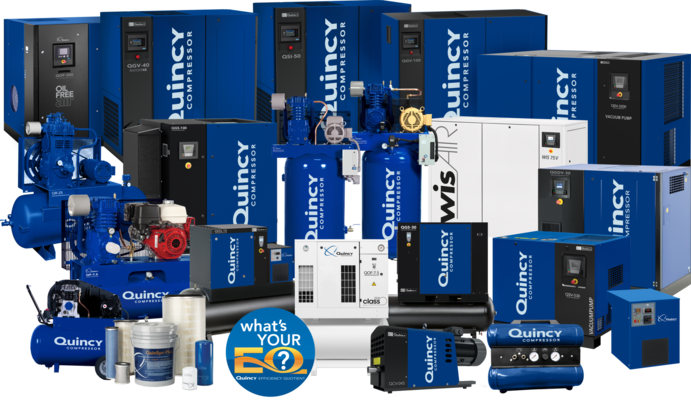 Types of Air Compressors We Offer in Texas
Quincy Compressor offers an extensive selection of air compressors and parts to ensure you get what you need to keep your business running smoothly. Each product is designed and manufactured to withstand heavy-duty industrial environments, so you can trust you are getting reliable and durable air compressors and parts to keep up with your daily production needs.
We offer:
Quality Air Compressors for Your Texas Business
With over a century of experience, Quincy Compressor has become a leader in air compressor technology. We produce high-quality solutions and offer expert guidance to help you with your air compressor needs. Our local partners throughout Texas allow us to provide 24-hour service and support to help you keep your business on schedule.
We manufacture various industrial air compressors and air compressor parts that are versatile and sturdy. Our products can fit the needs of almost any industry. A Quincy air compressor can accommodate nearly any application and provide solutions for stable air pressure, high efficiency and long equipment life needs.
We service various industries, including:
Food and beverage
Automotive
Agriculture
Oil and gas
Dry cleaning
Mining
Plumbing
Textiles
Manufacturing
Our Texas Air Compressor Service Locations
Quincy Compressor provides the best Texas air compressors in the state. Our innovative products are available to you wherever you are located. We have a variety of professional authorized dealers throughout the state to provide you with the services and parts you need to keep your air compressors running efficiently for years to come.
We have six direct locations in Texas:
Quincy Compressor has a solution for your compressed air needs, whatever your application specifics are and wherever you may be.
Contact a Quincy Compressor Service Provider in Texas
Get the parts you need when you shop with Quincy Compressor. With our years of experience in manufacturing and delivering high-quality air compressor products to customers throughout the country, you can trust you will be getting some of the best products and services available.
To find the right air compressor products for your business, reach out to our network of professional air experts who can provide you with reliable solutions and guidance as you consider your air compressor options. Contact us online today, or visit your local dealer to learn more.