Air Compressor Sales & Service in Dallas
Many companies in oil and gas, food and beverage, automotive, farming and other industries need high-quality compressed air and vacuum pump products that deliver reliable performance day-in and day-out. At Quincy Compressor, we offer a range of air compressors in Dallas, Texas, plus air compressor parts and ongoing support for companies and organizations that need it.
When you invest in an air compressor in Dallas from Quincy Compressor, you're securing a tool that will last for years — if not decades. In addition to the quality of our products, we also offer 24-hour support through our network of authorized partners. Find the air compressors and air compressor parts in Dallas, TX you need by trusting Quincy Compressor.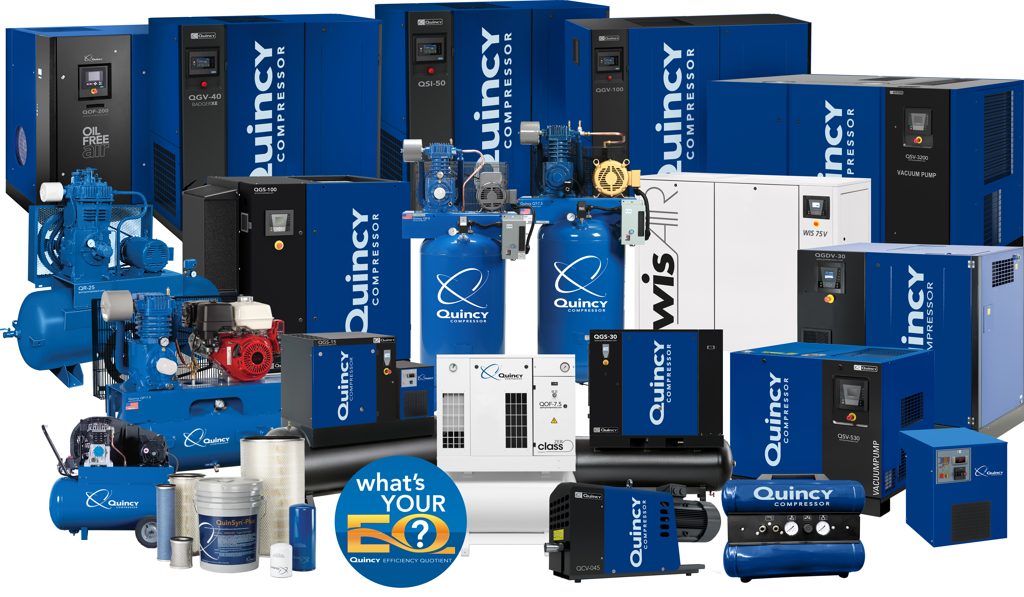 Different Types of Air Compressors Available in Dallas
At Quincy Compressor, we understand that different customers have different needs when searching for air compressors in Dallas. That's why we offer a range of different solutions, including:
The Benefits of Choosing Quincy Air Compressors in Dallas
What separates Quincy Compressor from the competition? For nearly a century, we have been a leader in air compressor technology, creating high-powered, reliable solutions for customers around the globe. Each of our industrial air compressors is made with an emphasis on quality and attention to detail. And all Quincy products are designed to represent the utmost in durability — allowing them to get the job done in even the toughest environments.
Compressor Service Locations Near Dallas, TX
Directions to Our Dallas, TX Location
Quincy Compressor is located at 1275 West 17th Street, Suite 300, Grapevine, TX. If you are heading west on Mustang Drive, you will find our location on the left side of the road.
Get Directions
Get in Touch to Find the Right Air Compressor Equipment For You
Are you ready for the power and performance of air compressors from Quincy Compressor? We serve our customers through a network of local partners who can help connect them with the perfect product and provide needed support well after the purchase is complete. We also offer air compressor parts in Dallas, TX if you need to maintain or repair an existing tool. Either way, we're always here to help.
Contact us today to speak with a sales and service provider in Dallas, TX.
What Our Customers Say About Quincy
The Quincy team of technicians are very skilled and explain everything  in detail. I feel confident with their work and I would recommend their service to anyone.
– Roy, Texas