When purchasing a new air compressor for your industrial facility, the product you choose should exhibit the durability and efficiency needed to streamline operations for your business. When you partner with a dependable and experienced manufacturer for your compressed air needs, you can ensure that you secure high-quality solutions optimized for your company's unique applications.
At Quincy Compressor, we provide our customers with exceptional air compressors in Virginia that emphasize performance and longevity. We've been leaders in our industry for over a century, producing compressed air solutions that can withstand even the harshest environments and most demanding applications.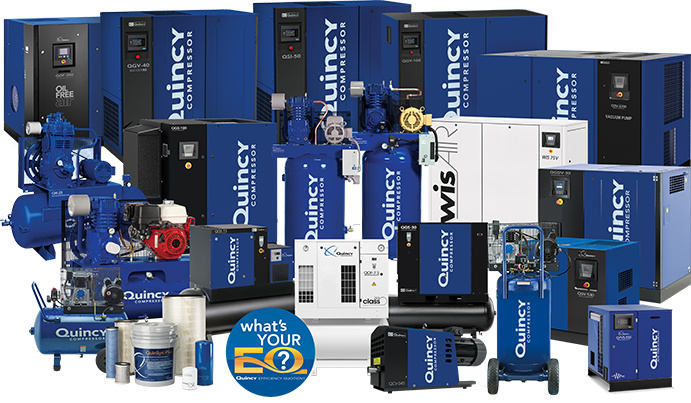 Types of Air Compressors We Carry in Virginia
Our extensive inventory includes a complete line of high-performance air compressors designed to excel in harsh industrial conditions. Shaped by decades of design innovation and manufacturing advances, Quincy compressors are known for their uncompromising dependability, top performance and high quality.
You can keep production tasks moving efficiently when you choose from our wide assortment of air compressors. We offer many types of compressed air products, including:
Superior Air Compressors for Your Virginia Business
Quincy Compressor has been working with businesses across many diverse fields since our establishment in 1920, giving us a genuine understanding of your company's unique compressed air needs. When you do business with us, we'll use our industry knowledge to help you select the ideal air compressor to fit your company's specifications. Our local partners in Virginia also enable us to deliver 24-hour support to ensure you get the assistance you need to get your operations back up and running.
Our high-quality air compressors accommodate numerous applications across nearly any industry. Industries we've served include:
Oil and gas
Automotive
Mining
Food and beverage
Plastics
Manufacturing
Energy
Textiles
Pharmaceutical
Aerospace
Dry cleaning
Plumbing
Our Virginia Air Compressor Service Locations
We offer state-of-the-art compressed air solutions across the state of Virginia. Due to our direct store location in Richmond, Quincy Compressors is conveniently located near:
If our Richmond location is too far of a drive, you can visit one of our many authorized Quincy dealers in Virginia to purchase our quality products.
Find High-Quality Air Compressors in Virginia at Quincy Compressor
You can find dependable air compressors for your Virginia facility at Quincy Compressor. When you choose us as your trusted manufacturer, you can expect nothing less than the highest-quality products and most efficient services in the industry. Our long legacy of innovation enables us to deliver the performance our customers demand and the reliability they can trust. We also offer comprehensive product warranties to protect your investments in the long term.
You can secure the ideal compressed air solutions for your company when you seek guidance from our knowledgeable air experts. Find an authorized Quincy dealer near you, or contact us to speak to one of our knowledgeable representatives!