If your company uses compressed air in its operations, it's crucial that you secure a dependable air compressor that meets your high quality and efficiency standards. You can leverage premier compressed air solutions for the performance and durability required to meet your business needs. However, it's vital that you get your machinery from a reliable Illinois air compressor manufacturer for the best results.
At Quincy Compressor, we produce cutting-edge air compressors designed to take on even the most demanding applications with exceptional performance and efficiency. With over 100 years of industry experience, we're the skilled and knowledgeable leaders you can trust.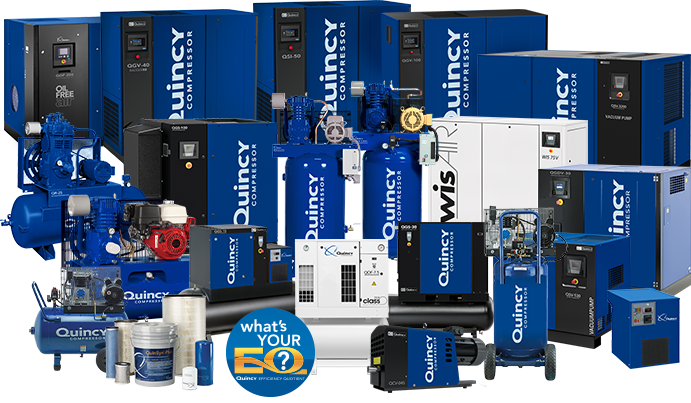 We Offer Several Types of Air Compressors in Illinois
We offer a comprehensive selection of air compressors and components manufactured with the durability to withstand heavy-duty industrial environments while exhibiting unbeatable operational efficiency. Our state-of-the-art air compressors demonstrate uncompromising reliability, premium performance and high quality. Our air compressor products benefit from decades of design innovation.
With compressed air solutions from Quincy Compressor, you can stay on top of your everyday production needs, no matter how demanding. We offer the following air compressors in Illinois:
Quality Air Compressors for Your Illinois Business
Quincy Compressor has served as a leader in air compressor technology for over a century, providing companies with top-of-the-line parts and solutions while delivering expert guidance to help them choose the best compressors for their individualized needs. Our local partners in Illinois allow us to provide around-the-clock services and assistance to keep your business running with minimal downtime.
When you come to us, we can set you up with solutions to accommodate any application. Our robust and efficient air compressors have the versatility to suit the needs of practically any industry, including:
Automotive
Plumbing
Mining
Food and beverage
Agriculture
Textiles
Dry cleaning
Oil and gas
Manufacturing
Our Air Compressor Service Locations in Illinois
At Quincy Compressor, we offer high-quality air compressors across the state of Illinois. Our direct location in Addison, Illinois, allows us to provide our Illinois customers with superior parts and products, no matter where they are. Some of the many cities we serve nearby include:
You can find our Addison location at 1717 Armitage Court in Addison, Illinois, off of N Rohlwing Road. When heading south down N Rohliwing, you'll see our store on the left side of the road, across from Crush Crete Inc.
Contact a Quincy Compressor Service Provider in Illinois
You can find high-performance air compressors for your Illinois business at Quincy Compressor. When you come to us for your compressed air needs, you'll benefit from our ruggedly efficient air compressors backed by the industry's most comprehensive warranties. We also offer reliable services performed by our highly qualified technicians to ensure that your compressors remain in peak operating condition at all times.
Speak to an authorized Quincy Compressor representative near you for more information about our products and services today!